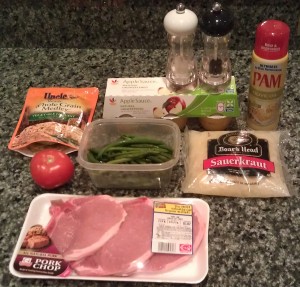 In my recent phone chat with the Boys & Girls Clubs participants of the Fit Family Challenge, one of the callers confided in me that she works long hours and struggles to find time to cook healthy meals for her family. This is a very common problem, though there are tricks to make meal preparation fast and affordable. I decided to take the challenge myself, cooking a pork chop dinner for three, with only 9 ingredients in 9 minutes. I took a photo of the starting ingredients here. The total cost of the used portions (I'm not counting all the PAM, and apple sauce that I didn't use for example) was about $9. That's only $3 per person, less than most fast food meals! (I served ice water with the meal, but a glass of skim milk would have been fine too.)
My ingredients include:
1. Quick-fry pork chops, seared in a pan coated with PAM cooking spray. I chose pork chops with very little fat, and cooked them for 4 minutes on each side.
2. Steamed French string beans – although I would have liked to slather some butter on them, they tasted almost as good with a squirt of olive oil and a pinch of salt and pepper. I just popped them in the microwave for 2 minutes.
3. Sliced tomato – for color and flavor.
4. Sauerkraut – makes a nice tangy compliment to the sweet, apple sauce.
5. Unsweetened apple sauce – you'd be surprised how naturally sweet apples are. At 25 calories a serving, this is a great condiment.
6. Uncle Ben's whole grain medley, vegetable harvest blend. This is a pre-cooked mix of lentils, barley, and brown rice with peppers, tomatoes, and spices. It has 5g of fiber per serving, but a lot of salt – almost one-third of your total daily allowance so just be aware of that. It heats up perfectly in the microwave in just 90 seconds.
7. PAM olive oil cooking spray – olive oil is a healthy fat, and the spray mechanism ensures you don't use too much.
8. Salt to taste – I don't worry too much about dietary salt in folks with normal blood pressure and healthy kidneys. But no need to go crazy with the salt in this dinner because the rice is pretty salty on its own.
9. Pepper to taste – one of my favorite, no-calorie add-ons.
Total calories per portion: 375
Fat: 12g
Carbohydrates: 44g
Fiber: 7g
Protein: 18g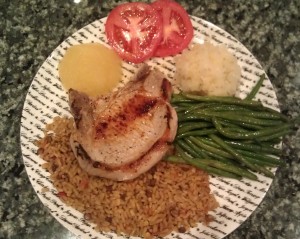 Now the fun part of this meal is that you can duplicate it with virtually any lean meat (broiled fish, grilled chicken breast, etc.) and any long grain pre-cooked rice, and steam-in-bag veggies. You'll probably want to skip the sauerkraut with chicken and fish, though 😀 and add any spices you like! These meals are super fast, inexpensive, and very healthy. If you have healthy recipes that you'd like to share, please do so! I'm always looking for new ideas…
For more of my Fit Family Challenge blog posts, please check out:
1. Eight Tips For Healthy Meal Preparation
2. How Much Water Are You Supposed To Drink? Your Urine Will Tell You
3. Seven Secrets To Long-Term Weight Loss Success
4. Healthy Eating: It All Boils Down To Three Pieces Of Advice