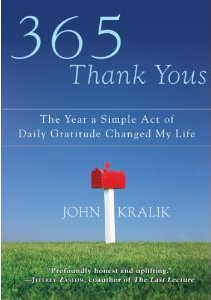 This is a guest post by Dr. John Schumann.
**********
I just read the book "365 Thank Yous" by John Kralik. I heard an interview with the author on NPR and it caught my attention.
Kralik had been down on his luck in 2007: Divorced twice, overweight, with a struggling law firm that he'd started, he was also failing in a new romantic relationship. He was worried about losing his seven-year-old daughter, too, in a custody dispute.
He made a momentous decision: Instead of feeling sorry for himself (easy to do given his predicaments), he decided to be grateful for what he had. To show it, he vowed to write a thank-you note every day for the next year. What do you think happened?
His life changed for the better. His relationship improved. His clients started paying their bills and his firm's financial footing solidified. His health improved. He eventually achieved his lifelong dream of becoming a judge. To top it off, he turned his personal quest into a writing project. Within minutes of writing a book proposal, he received responses from agents who hoped to shepherd his project. Every writer's dream.
I'll grant you that it sounds hokey. But there are a couple of things the book demonstrated to me.
Making a commitment to change is never easy. Kralik decided to change his perspective, and his results are indeed stunning. But he's quite open about the fact that it was a process, and a lengthy one at that. He had times when he felt like giving up. Crises arose in which he didn't write a note for several weeks. Sometimes he just flat out felt that he had nothing to be grateful for. But he always came back to his task.
And people really responded to him, from government officials, to clients, to his Starbuck's barista. Everyone likes gratitude. We are human. It helps to know that our work and our humanity are appreciated.
There are other personal resonances. Kralik hails from Cleveland. Even as a lawyer, he shunned corporate law for his own values-driven law firm. He wrote a mission statement, and was rankled with inner turmoil when he strayed too far from it.
I guess to sum it up I'd write Judge Kralik a thank-you letter of my own:
Dear Judge Kralik,
Thank you for sharing your story with me.
I am truly inspired by how you were able to turn your life around. As a doctor, I am touched by the mission-driven aspect of your legal work. In addition, I find that your quest to allow gratitude to suffuse every aspect of your life really provided a beautiful level of harmony to your story. I plan to share your story with patients and colleagues; I am always moved by ideas and examples that take something simple (e.g. the thank-you note) and make it a habit that can lead to a virtuous cycle.
Congratulations on your professional and personal successes. I hope that they continue.
Genuinely,
John Henning Schumann, M.D.
**********
This post by John H. Schumann, FACP, originally appeared at GlassHospital. Dr. Schumann is a general internist in Chicago's south side, and an educator at the University of Chicago, where he trains residents and medical students in both internal medicine and medical ethics. He is also faculty co-chair of the university's human rights program.
His blog, GlassHospital, provides transparency on the workings of medical practice and the complexities of hospital care, illuminates the emotional and cognitive aspects of caregiving and decision-making from the perspective of an active primary care physician, and offers behind-the-scenes portraits of hospital sanctums and the people that inhabit them.
*This blog post was originally published at ACP Internist*