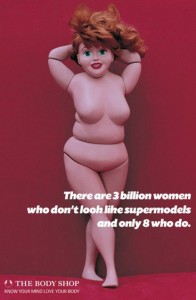 I just learned (yes, I'm a little late to the party) about the Body Shop anti-barbie controversy from a post on Facebook. The ad to the left has been banned from most countries, because it was believed to be in bad taste. For me, it raises some very interesting questions.
First of all, it's been my experience that the media has been relentless in its portrayal of feminine beauty as being a dress size zero. This is an unattainable goal for most of us, and a very narrow view of what is truly attractive and physically healthy. I can't imagine how many young girls feel deeply flawed when they compare themselves to Barbie et al. If unchecked, that self-doubt and insecurity can become a lifelong self-esteem issue or worse. Eating disorders are becoming more and more common, and carry with them the highest mortality rate of any mental illness.
That being said, I've often had mixed feelings about the few "love your body as it is" campaigns* that have tried to push back against the rail-thin ideal. While we all have different body types, it's still not healthy to be obese. Just as our favorite pets are born with different natural shapes (Chihuahuas, Whippets, Golden Retrievers, and Great Danes), we humans are different sizes too. But that doesn't mean it's "ok" to be excessively fat. I'm sure we can all think of examples of dogs that are over-fed and under-exercised. They frequently have (or are developing) health problems because of it.
So, I think that it's good to have this conversation – beauty comes in many shapes and sizes. But I don't want us to go too far and become complacent about health and fitness. Being the "right size" for our build is an important part of preventing certain weight-related illnesses like high blood pressure, type 2 diabetes, osteoarthritis, and heart disease. There is no room for "discrimination" against those who are working towards a healthier body, be they obese or otherwise. But, let's not go too far in accepting an unhealthy lifestyle. Barbie is not the ideal, but I don't think Ruby (above) is either.
How do you feel about this campaign?
*I think the Dove campaign is a notable exception. All the women in the ad below are different shapes/sizes without being obese.