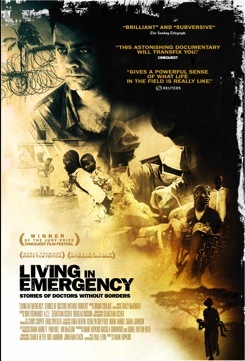 Feeling sorry for yourself after a long, hot week of cranky patients and insurance hassles? Maybe a glimpse of someone else's practice will make you feel better. Especially if that doctor is alone in war-torn Africa, treating vast numbers of patients without sufficient equipment and supplies.
The new film "Living in Emergency: Stories of Doctors Without Borders" is not a fun summer flick, but it's a fascinating portrait of the work done by Medecins Sans Frontieres (MSF)/Doctors Without Borders. The film follows several volunteers (some new, some veteran) through their stints practicing in dramatically underserved and sometimes dangerous areas.
Although the film does seem to be intended to garner support for MSF, it gives a surprisingly-nuanced picture of the organization and its members, revealing their flaws (lots of arguments and cigarettes) as well as their heroics. You might want to leave the popcorn and the kids at home, though, as some of the clinical footage is a little grisly.
*This blog post was originally published at ACP Internist*