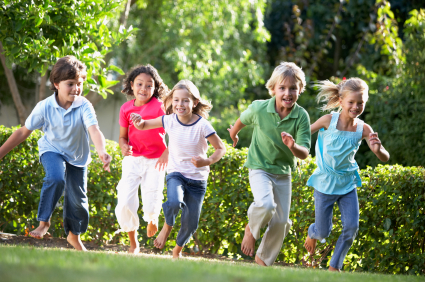 "Play, Incorporating Animistic and Magical Thinking Is Important Because It: Fosters the healthy, creative and emotional growth of a child; Forms the best foundation for later intellectual growth. Provides a way in which children get to know the world and creates possibilities for different ways of responding to it. Fosters empathy and wonder."  — Rachel Carson, "A Sense of Wonder"
Remember "Red Light, Green Light," "One-Two-Three," "Tag, You're It," "Mother, May I?" or "Kickball?" These are just some of the good old-fashioned outdoor games kids used to play, and they are making a comeback. There's nothing better than the sound of kids playing outdoors. Even kids playing outside making up their own games can bring them a lot joy and can be great exercise. With all the technology that surrounds us today, it's great to see kids playing in the park and in their backyards.
It's no secret that outdoor play and fresh air are great for kids' overall physical and emotional well-being. In fact, a study in the journal Pediatrics concludes that children ages 8 and 9 who had more than 15 minutes of recess had better classroom behavior. This study suggests that school children in this age group should be provided with daily recess.
If you're looking for some ideas to help keep your kids playing outside, Disney Family.com lists 10 Fun Outdoor Games for Kids. From "Big Foot Relay" to "Pick Pocket Tag" to "Name-It Ball," you'll find some ideas here that will keep your kids active.
Be prepared for life's little mishaps
As the saying goes, kids will be kids. You never know when a fall or a bump on the head may land them in the ER. Even with a watchful eye, sometimes things are bound to happen. But don't let this interfere with your child's free-play.
Being prepared can help you navigate the ER maze and can lessen your anxiety knowing you have all the necessary information at your fingertips. As a registered nurse and an administrative head nurse who covers the pediatric ER, I know it's not uncommon for parents to be anxious. And as a mom, I understand this too. I've been on both sides. Let's face it; the ER can be overwhelming and frightening. Being prepared is your first step in taking charge of you and your family's health in the ER.
Here are some key pointers to help you be proactive. These are excerpted from an article I wrote as a medical contributor to Real Simple magazine on emergency rooms:
Always carry a list of your children's medications and their medical history with you
The emergency room can be scary and answering the simplest questions can be difficult. Having everything written down makes it easy for the doctors and nurses to get an accurate health history. You'll still need to answer questions by the staff, but having your updated medication list and medical history list with you can be a life saver.

Where can you find a medical history form?
There are some sites where you can create a small information card. However, some people are on so many medications that the small size isn't sufficient. If your child is on an inhaler for asthma make sure you include it on the medical form. Does your child take any medications for ADHD? Does your child have allergies? What type? Food? Or man made? Be specific. Do they have any past hospital admissions? This is just some of the information you need to include. For a 6×4 size that you can simply carry in a photo wallet, I've created one for you (Download the card).  Simply print, complete and carry. Keep a list for you, your kids, spouse or significant other, parents and grandparents. It's great for college students as well. Men can simply fold and carry in a small wallet.
Consent to Treat Form
Parents, in case you're not with your child at the time of the mishap, you can give your caregiver a consent-to-treat form. In case of an emergency, having a notarized consent-to-treat form signed by the child's caregiver will prevent treatment from being delayed. Of course any life-threatening illnesses or injuries are always top priority, but for a non-critical case, having the proper forms will help expedite the process. Find the consent-to-treat form at http://emergencycareforyou.org/, the American College of Emergency Physicians (ACEP) Web site. (A friendly reminder, for any non-threatening life emergency, even with a consent-to-treat form it doesn't guarantee that you'll be seen right away. Your child will be triaged by the nurse.)
Here are a few simple tips:
The Dos:
Communicate clearly with the doctors and nurses in the ER
Be calm
Be patient
Be assertive
Be persistent
Be honest and provide a complete and accurate health history
The Don'ts:
Don't be rude, loud or obnoxious
Don't be combative or angry
Don't lie about your child's condition
We'd love to hear from you. Does your child spend time playing outdoors? What type of games do they like to play? In case of a little mishap that may land your child in the ER, are you prepared? Do you carry a medical history form with you, as a "just in case?"  If not, we hope you'll download the free form and carry it with you, just in case!
*This blog post was originally published at Health in 30*