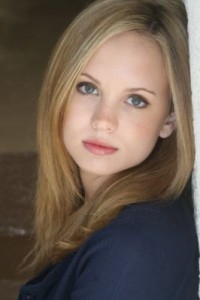 When I asked Meaghan Martin (star of Mean Girls 2, 10 Things I Hate About You and Camp Rock among others) what was the most difficult thing about being a teen these days, she didn't hesitate: "Being a teen has always been difficult, but today there are so many ways to be rejected. Between Facebook, Twitter, and other online sites, it seems as if every day there's a new way to be un-friended, excluded, or picked on."
I interviewed Meaghan about her perspectives on teen self-esteem issues and the impact that physical appearance can have on young men and women. You can listen to the edited interview here (starts at minute 12:02):
The most striking thing about Meaghan is that she is a genuinely nice person. Down-to-earth, confident, empathic – she exudes an inner peace that is downright wholesome. How did she escape her teen years relatively unscathed by hormonal angst, I wondered? The secret, she said, was loving parents.
"I was a typical nerd as a kid. I had glasses, braces, and an asthma inhaler. But I didn't care what others thought of me, because my parents told me that I was a good person who could do anything I wanted in life. They taught me self-confidence, and supported me 100% in anything I wanted to do. I was so blessed to have parents like that."
I chuckled as I remembered my pre-teen and teen years, sharing with Meaghan that I was a lot like her – except that I had traded the asthma inhaler for acne. For me, my thick glasses were an unwelcome part of my teen identity. Something my eye doctor said I had to live with because I was "too young" for contact lenses.
"Well, my glasses became a problem during dance lessons," she said. "I would try to do flips and they'd fly across the room, or the light would reflect off of them and blind my partner. I was afraid of contact lenses because of the thought of putting a foreign object in my eyes. But I finally caved in and asked my mom if I could get some."
"That fear of touching your eye has a name in eye-doctor circles," I replied. "It's known as 'poke-a-phobia.'"
After a quick chortle we gathered our wits about us. Meaghan responded, "Yeah, my mom had to help me put my contacts in for a while when I first had them. Then one day when she wasn't around I wanted to wear them to meet a boy that I liked. I researched how to put my contacts in on the Internet, took a deep breath, and confronted my poke-a-phobia. From then on I was able to put them in by myself."
I wondered if the switch to contacts made Meaghan feel more self-confident.
"Around boys, they did." she said. "Though they didn't change my 'confident nerd' personality. But I had a girlfriend who switched to contacts and it changed her whole life… she became a different person. More outgoing, more sociable. The change from glasses to contacts made all the difference in her self-esteem."
I researched the subject of contacts and self-esteem and discovered a robust study called the ACHIEVE trial (supported by funding from Johnson & Johnson Vision Care, Inc. and The Vision Care InstituteTM, LLC, a Johnson & Johnson company). Nearly 500 ethnically diverse 8- to 11-year olds were randomized to either contact lenses (n=247) or glasses (n=237) and followed for three years. All subjects had been wearing glasses for correction of myopia prior to enrollment in the study.
The study authors tested the study subjects with the Self Perception Profile for Children. They found that children in the contact lens group felt significantly better about themselves compared to glasses wearers in three specific areas: athletic competence, social acceptance, and physical appearance.
Mitchell Prinstein, Ph.D., one of the investigators in the ACHIEVE trial told me that children's sense of self-concept can alter their whole course of development. "Kids who feel more confident about sports or social activities are more likely to engage in those experiences, which further builds their skills and makes them more open to similar experiences in the future."
I wondered how the simple contact lens intervention compared to more complex strategies that have been tried (such as major home and school life changes) to improve childrens' self-esteem.
"What really surprised me is that for many children in the study, the switch to contact lenses had as large an effect on self-esteem scores as much more complicated and expensive interventions tested in other studies" said Walline.
It is surprising that something as simple as a switch from glasses to contact lenses can have such an impact on the self-perceptions of children and teenagers. It made me wonder if I had been allowed to make the switch if maybe my teen years would have been less painful/awkward for me.
For Meaghan, contacts were simply a utilitarian solution to a physical problem (dancing with glasses), for other youngsters, they may be the first step in adopting a new self-confident identity. But one thing's for certain: there's no substitute for the nurturing effect of loving parents on the healthy development of the teen psyche!
*Dr. Val Jones is a paid consultant for Johnson & Johnson Vision Care, Inc.