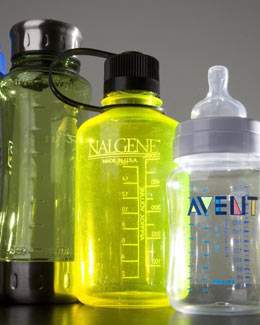 There has been a lot of media attention surrounding the safety of polycarbonate plastic products containing bisphenol A (BPA). BPA is found in polycarbonate, hard clear plastic products like eye glasses, bicycle helmets, and food containers, and also in epoxy resins that act as protective coatings on everything from food and beverage cans to steel pipes and car engines.
In the next week or so, the FDA is expected to provide a new analysis of the science behind BPA safety. To gain some insight into what the fuss is all about, Dr. Steve Novella and I interviewed Dr. Steven Hentges (Executive Director of the Polycarbonate/BPA Global Group of the American Chemistry Council) on a blogger briefing call.
You may listen to the entire conversation here (and please read on for my summary of the issues):
[audio:https://getbetterhealth.com/wp-content/uploads/2009/12/bpacall.mp3]
Here's what I found most compelling about Dr. Hentges' review of the BPA research:
1. BPA is essentially completely metabolized (through a process of glucuronidation) into an inert byproduct when it's absorbed through the gut (so studies of BPA's effects in Petri dishes are irrelevant in the body). The BPA metabolite has been shown NOT to have any estrogenic type effects in vitro or in vivo. The human body also rapidly excretes the BPA metabolite through the urine – so its half life is only 4-6 hours.
2. Previous urine analyses of random Americans do show that tiny amounts of the metabolite are present in 90% of the population but only at levels 1000 times lower (about 50 nanograms/kilogram/day) than the recommended safe amount.
3. Concerns related to the potential effect of BPA on rodents neglect to consider that these animals metabolize BPA differently than humans (they excrete the chemical in their bile rather than their urine, which means it stays in their bodies much longer and is not broken down the same way). In addition, the potential harms to rodents have been inconsistent and hard to reproduce in repeat experiments.
The podcast also offers answers to the following blogger questions (so please listen to hear the answers):
1. Could there be a synergistic effect between BPA and other chemicals that could add up to being harmful in the body?
2. What does the National Toxicology Panel report of there being "some concern" about BPA really mean?
3. Are BPA-free products safe?
4. Is there a greater exposure to BPA via medical devices than food containers?
5. Is it safe to eat out of plastic food containers that have been heated or frozen?
6. What would the economic impact be of switching BPA for an alternative product in all our manufacturing processes?
7. Why are people suspicious of plastic products when there is so little evidence of any potential harm?
About the podcast speakers:
Dr. Steve Hentges is the Executive Director of the Polycarbonate/BPA Global Group of the American Chemistry Council.  In his current position, Dr. Hentges has been deeply involved with the science on bisphenol A for more than 9 years.  Dr. Hentges holds a Ph.D. in organic chemistry from Stanford University, and has also conducted postdoctoral research at the California Institute of Technology.
Dr. Steve Novella is the Founder and Executive Editor of Science-Based Medicine. He is an academic clinical neurologist at the Yale University School of Medicine. He is also the president and co-founder of the New England Skeptical Society, the host and producer of the popular weekly science podcast, The Skeptics' Guide to the Universe, and the author of the NeuroLogicaBlog, a daily blog that covers news and issues in neuroscience, but also general science, scientific skepticism, philosophy of science, critical thinking, and the intersection of science with the media and society.
For More Information About International Reviews of BPA Safety:
1. European Union risk assessment.
2. Canadian Government assessment and fact sheet.
3. Japanese Government assessment.