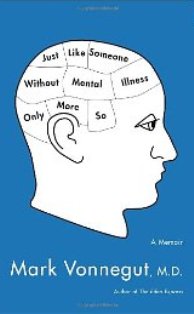 I'll cut to the chase: I loved this book. Five stars. Two thumbs up.
When I read books, especially psychiatry books that I write about on Shrink Rap, I often read more carefully and sometimes more critically. I was so immersed in reading "Just Like Someone Without Mental Illness Only More So" that I didn't stop to think, I just went on the journey.
Mark Vonnegut is a pediatrician and the son of my favorite author when I was in junior high school. His memoir is a poignant and candid account of his struggles with, well, life in general, and life with a psychotic illness in particular. Schizophrenia, bipolar disorder — who knows? (I'll vote for bipolar disorder.) Some illness where he had three episodes in his twenties, then another episode 14 years later.
Thorazine and lithium and megavitamins and psych wards. Xanax and alcohol and how humiliating it is to be psychotic on a stretcher in the ER hallway of the hospital where he works. Divorce and remarriage. First and second families. Childhood as the son of a financially struggling, not-yet-famous eccentric writer, and adulthood as the son of an icon. Vonnegut is a hippy, a mainstream doctor, a middle-aged softball player, then finally a guy who accidentally poisons himself with wild mushrooms.
Dr. Vonnegut's struggles are those of vulnerability, fragility, hope, and resilience. He comes back from these life-altering episodes of psychosis and applies to twenty medical schools. He gets into Harvard — and only Harvard. If you're going to apply to med school with a 1.8 science GPA from college, then I imagine it's helpful to have a very famous dad who teaches at Harvard. Vonnegut does well enough that he stays for residency and teaches there after.
His illness and the possibility of its return hang on him — once you've heard voices, he says, you're never like someone who hasn't. As serious as the topic is, the author is able to make light of himself and the writing is funny and tragic all at once. It's a quick and engrossing read.
In case I didn't like this memoir enough, Vonnegut makes intermittent jabs about the tedious things that weigh down life as a doctor — paperwork (my favorite rant), the influence of Big Pharma, and insurance companies. So would I like Mark Vonnegut in real life? I liked him in his book. And so it goes.
—–
Listen to our latest podcast at My Three Shrinks or subscribe to our RSS feed. Email us at mythreeshrinks at gmail dot com. Our book comes out in May 2011.
*This blog post was originally published at Shrink Rap*