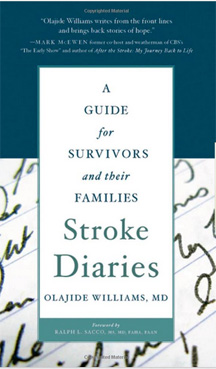 I had the distinct pleasure of reading Stroke Diaries this past week. Its author, Dr. Olajide Williams, is a dear friend and contributor to this blog. I first met Dr. Willliams (or Jide, pronounced "gee-day") as a young neurology resident at Columbia Presbyterian Hospital. I was in my third year of medical school and rotating through the neurology service.
A few things struck me about Jide back then. First, he was the only resident who never got an answer wrong when put on the spot (aka "pimped") by his superiors. I was in awe of his knowledge base — something he'd developed by disciplining himself to do additional reading long after his peers were asleep.
Second, Jide was always immaculately dressed — his stylish, brightly-colored shirts and ties complimented his dark skin and cheerful, British accent.
And third, his love for his patients and medical students was abundantly clear, as he always went out of his way to educate them in the most friendly and sensitive of ways. In short, Jide was an inspiration to me — as a teacher, a neurologist, and a friend.
Stroke Diaries is a reflection of Jide's character — a perfect blend of poetic vignette and straightforward science. This short book (130 pages) chronicles the true life stories of various patients who've suffered strokes. The raw realities of their lives — from homeless in Harlem, to hemorrhages near the Oshun river in Nigeria – are both haunting and instructive. With artful simplicity, the reader is taught about the wide variety of signs and symptoms associated with various stroke syndromes.
While some strokes are avoidable, others are not — yet most are treatable if addressed within hours. Jide's diary entries make one thing crystal clear: the devastating impact of strokes may be substantially minimized by rapid intervention. Paralysis, dementia, and brain damage are not irreversible.
Though Stroke Diaries is designed for survivors and their families, I think that it would appeal to an even broader audience. Those at risk for stroke would do well to read this book carefully. Individuals with high blood pressure, heart disease, high cholesterol, vascular conditions, clotting disorders, autoimmune disease, or a history of smoking (among others) should know how to recognize the signs and symptoms of stroke so that they can have it treated at the earliest possible moment. Stroke Diaries makes it very clear what can happen if preventive medications are skipped or symptoms are ignored. This kind of knowledge could save lives — and therefore it's imperative that as many people as possible read the book.
Since May is stroke awareness month, there's no better time to buy the book. Check it out on Amazon.com and give it to someone you know who's at risk. You may save their life — or at least their brain!