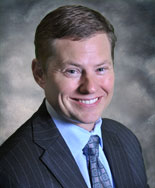 OptumHealth is one of the largest health and wellness companies in the United States, providing services to about 58 million people. It is the umbrella organization for 12 consumer-directed healthcare companies recently purchased by UnitedHealth Group. I caught up with the CEO of OptumHealth Care Solutions, Rob Webb, at Health 2.0 to find out what they're up to and how they're hoping to contribute to healthcare reform.
Dr. Val: What does Optum Health do?
Webb: We work with about 300,000 people a day. We're focused on the consumer-provider interaction and we try to help consumers make better decisions in four key areas: 1) help them find the right provider for their needs,  2) to provide them with an unbiased set of information about what their treatment options are 3) optimize their pharmaceutical regimens and medication compliance and 4) help them improve their lifestyle choices. In the past we focused a lot of our efforts on #3 because it's so tangible and there's an entire PBM (pharmacy benefits management) industry to help.
Dr. Val: Optum Health just announced a new wellness initiative led my non-physician professionals. What's that about?
Webb: We're trying to meet the individual where they are on their health journey.  Our employer clients were requesting more wellness programs, so we began employing nutritionists, exercise physiologists, and coaches – and made sure that their programs were reviewed by our physicians.
We've been running through a few different engagement models around a few key attributes like weight, smoking, and high blood pressure.
Dr. Val: What seems to be getting the most traction?
Webb: Smoking cessation, because it's a hot topic and very tangible.
Dr. Val: In your perfect world, what will companies like OptumHealth offer consumers in five years from now? What are you driving towards?
Webb:  I like to think of this in two categories – what we can do for consumers before they need to access the healthcare system, and what we can do for them when they need it.
Today there are 24 billion dollars being spent on advertising tobacco, alcohol and fast food in the United States per year, and only 6 billion on disease management and preventive health measures. We need to get those companies (who have the mindshare of the consumer) to start to partner with people like OptumHealth to educate them about healthier choices.
Once a person needs to access the healthcare system, the most important decision is to get them to the right provider. Take diabetics for example. Sixty percent of them are not receiving evidence-based care right now because they're not well matched with providers who have good capabilities in treating diabetes.  We need to help consumers to make decisions on the basis of clinical outcomes and efficiency of care.
Dr. Val: How do patients choose a provider now?
Webb: Today the two driving factors in choosing a healthcare provider is the physical appearance of the facility where they practice, and how close the facility is to their home. So in the US we've doubled construction and remodeling spend over the past 6 years. Almost 60% of our institutions were under reconstruction or remodeling in 2008 – and that's how they're competing.
There are 203,000 physician offices (compare that to the number of gas stations in the US – 120,000) because they're competing with one another on convenient locations. Our highly fragmented system is driven by our decisions as consumers.
If we could start helping consumers to make decisions based on quality of outcomes and how suited the provider is for their needs, and how efficient their care is – you'd see a reshaping of our entire healthcare system. OptumHealth hopes that healthcare reform will require physicians to report their outcomes so that consumers can make informed decisions about their care.
In the financial industry you need to report your earnings if you'd like to be a public company, in healthcare we'd like to see providers report their outcomes. OptumHealth's system is already set up to process outcomes reports from cancer and transplant centers, neonatologists, dialysis centers – mortality, length of stay, complication rates, and volume of experience. When we provided information about the top centers, their referral rates (consumers choosing to get their care with them) went from 45 to 90%.
Dr. Val: Do physicians and hospitals give you push back on your rating system?
Webb: No rating system is perfect, but we make our algorithm transparent. I'm sure that auto manufacturers dispute their miles/gallon ratings too. But at the end of the day, that information is posted on their window stickers and commerce moves forward.