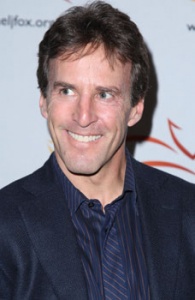 Davis Phinny
Davis Phinney has won more cycling races than any other American. He is charming, articulate, handsome, and requires a deep brain stimulator to keep him from experiencing incapacitating tremors. Davis was diagnosed with Parkinson's Disease at age 40.
I attended the Parkinson's Action Network 15th Annual Morris K. Udall Awards Dinner in Washington DC last week. Davis was interviewed by Diane Rehm and I recorded the conversation for my blog readers. It was an exceptional interview.
Davis explained how he was initially diagnosed – he felt tired, slow, experienced foot cramps and began tripping more frequently. As a young, seemingly invincible athlete who worked long hours, he assumed that he was just tired and in need of a massage. Eventually his symptoms became so persistent that he went to see a physician. After many tests and many different doctors examined him, a retired neurologist made the diagnosis. Davis says that it was a tough blow to his family. He felt as if he were Superman, now saddled with a permanent kryptonite necklace.
Initially Davis moved to Italy with his family to avoid the awkward gazes of strangers. He wanted people in his home town of Boulder Colorado to remember him as he was before his disability.
Although Italy provided him with the anonymity he sought, Davis began to miss his home. The thought of becoming more incapacitated in a foreign country was unnerving, and so when he traveled back to Colorado for a special awards dinner (and was received with open arms) he realized that it was time to face his illness and do all he could to inspire others to seek a cure.
Davis' tremors became so pronounced that he opted to receive a deep brain stimulator device in April, 2008. A friend of his who met him soon after the procedure remarked that he "had a nice haircut." Davis quickly quipped that it was "the most expensive haircut he'd ever had."
It was touching to hear Davis' account of his loving wife, Connie's, care for him. He told the crowd that "if there were any single men out there, they should strongly consider marrying a woman from the midwest" because his wife was midwestern and had incredible character and values. After a few women from the northeast took exception to his comment, he explained that his wife had been the primary caretaker for her mother who died of Multiple Sclerosis. Understanding how to take care of a person with a neurological disorder provider her with the skills to handle Davis' challenges as well.
Diane Rehm finished the interview with a quote from the New York Times. The NYT author described Davis as:
A risk-taker with beefy biceps, nicknamed Thor, the Norse god of thunder.
Davis chuckled at the description and responded with a "Yeah, baby!"
He added that he was also "a poster child for deep brain stimuation." He said that although he wasn't sure how long the miraculous effects of the device would last, he was grateful for the moments of joy he experienced in watching his son grow up to follow in his cycling footsteps.
Davis created the Davis Phinney Foundation for Parkinson's research in 2004.