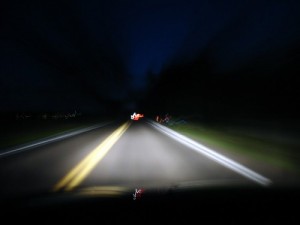 Did you know that your 20/20 vision may drop to 20/40 when you're driving in the dark? That's because your pupils dilate to try to let in more light, and in so doing, they sacrifice their ability to focus clearly. Night-time driving can be dangerous for many additional reasons, and I had the opportunity to interview two experts about these risks, and how we can reduce our chances of being in harm's way when we turn our clocks back on November 6th.
Optometrist, Dr. Christina Schneider, Senior Director, Medical Affairs for VISTAKON® Division of Johnson & Johnson Vision Care, spoke with me about common nighttime driving problems such as dry eyes, headaches, and eye fatigue – and what to do about them. We also discussed the risks of driving with an under corrected or uncorrected vision problem, and some of the available options and treatments available to improve our night vision
I also spoke with John Ulczycki, Group Vice President – Strategic Initiatives, for the National Safety Council, about safe driving tips. Please listen to the conversation here:
Traffic safety experts report that fatal motor vehicle accidents are three times more common at night. So how can we improve our nighttime driving safety? John's tips include:
1. Decrease your night-time driving speed. This improves your reaction time under lower-visibility conditions.
2. Check your headlights. It is estimated that 50% of all motor vehicle headlights are not optimally aligned. Potholes and bumps in the road can jolt the lights out of alignment.
3. Keep your eyes moving. Check for pedestrians, stalled vehicles, and other obstacles ahead.
4. Don't look directly at oncoming headlights. This can temporarily blind you as your eyes adjust to a quick change in lighting conditions.
5. Spend time with your teenager, practicing safe nighttime driving. The per-mile crash rate for teenage drivers triples after 9pm. Experience with driving at night can reduce this rate.
6. Be able to stop within the range of your headlights. This is a good rule of thumb to help you calculate how close you should get to vehicles ahead of you.
7. Pedestrians (and their dogs) should wear reflective strips or tape at night to enhance their visibility.
8. Never talk on a cell-phone or text while driving. Studies show that hands-free cell phone usage does not reduce the risk of cell-phone related accidents. When it comes to safe driving, it's not so much where your hands are, but where your head is.
For more safety tips, please listen to the full Healthy Vision segment.
*Val Jones, M.D. is a paid consultant for Johnson & Johnson Vision Care, Inc.*