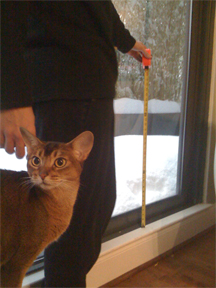 How deep is the snow? Judging by my balcony, at least a foot and a half. I asked Mr. DrVal to demonstrate for you with a tape measure – of course, our mischevious kitty, Ona (full name is Ona Riss Kitty) wanted to be in the photo as well.
I caught these guys (second photo) digging out a Politico newspaper vending machine. Seemed like a very DC thing to do.
Of course, having grown up in Canada, the snow storm didn't faze me much. I ventured out to get a salad, some frozen yogurt, and to see the movie Avatar. That was well worth the walk to the theater (saw it in all its 3-D wonder)!
Mr. DrVal summed it up with his usual dry wit, "It's The Lion King meets An Inconvenient Truth."
Please go see it though – the effects are really amazing.
All in a winter's day…