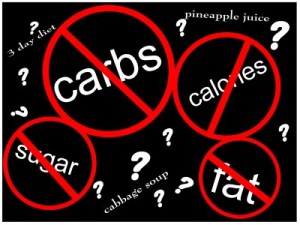 This year's Fit Family Challenge competitors are smart, savvy, and full of great nutrition-related questions! I just finished a one hour conference call with 10 family finalists from across the U.S. and Hawaii. As part of their challenge to adopt healthy diet and exercise practices, they were asked to send me their most burning nutrition questions. One mom told me that her goal was "to teach her girls how to think critically" about health information. I was so pleased to see those values being promoted that I thought I'd share some of our mythbusting FAQs here on the blog:
1. I live in a community that doesn't add fluoride to the public water supply. Do my kids need to take fluoride supplements?
Fluoridation of our water supply is considered to be one of the top 10 most effective public health initiatives of the 20th century. Enhancing the natural fluoride content of water results in up to a 60% reduction in tooth decay for kids! The cost to a community of adding fluoride to the water supply is about 50 cents per person per year, so it's really quite affordable. I'm not sure why your community water hasn't been fluoridated, but it's estimated that about 1/3 of Americans still live in communities that haven't supplemented their water with fluoride (so you're not alone).
Our teeth use fluoride to strengthen our enamel – and we can get fluoride to our teeth in two ways: 1) from our blood stream (e.g from the water we drink, digest, and absorb) and 2) topically (e.g. from toothpaste). Studies have shown that it's best to get fluoride via both routes for optimal enamel strength. For children living in areas where the water is not fluoridated, the American Dental Association (ADA) recommends fluoride vitamins until at least age 16. There are two strengths of fluoride vitamins, and the dosage required depends on the fluoride levels in the local water supply (you can ask your local Water Department for that information if you haven't already). Keep in mind that most children's permanent teeth (with the exception of "wisdom teeth") erupt by age 13 – and before that age there is no way to get fluoride to them except via the blood stream. So digesting fluoride (via water or vitamins) is critical to strengthen those teeth that haven't broken through the gums yet.
For more information about fluoride, see this helpful ADA guide.
2. Should parents be concerned about hormone levels in milk? Is there an advantage to buying organic milk?
All mammals release trace amounts of hormones into their milk. Cow's milk naturally contains a small amount of bovine somatotropin (bST) which is a protein that is quickly broken down by our stomachs when we drink milk. Some farmers give their cows additional amounts of the hormone to stimulate milk production. This rbST (or BGH) is virtually identical to naturally occurring cow hormones and the decades of research we've collected has been reviewed by the FDA (Food and Drug Association), WHO (World Health Organization), NIH (National Institutes of Health), AMA (American Medical Association), and ADA (American Dietetic Organization) – and all agree that rbST is safe for human consumption in the levels it occurs in cow's milk. Interestingly, studies have shown that milk hormone levels in organic milk is essentially identical to levels in regular milk. There is therefore no advantage in buying organic milk insofar as hormones are concerned.
I believe that cow's milk is safe and nutritious for kids (so long as they have no milk allergies or lactose intolerances). The milk/hormone scare is kind of an urban legend, so I wouldn't be too worried about it. Your girls haven't suffered any harm from drinking regular milk – and it's great that you all enjoy the skim variety, by the way. Lower calorie options can help you maintain your weight over your lifetime.
For more information about milk and hormones please check out this helpful link full of research resources.
3. Are there lifestyle choices that I can make to reduce my risk of getting cancer? Can vitamins help?
You are right that there are lifestyle choices that can substantially reduce your risk (and your childrens' risk) of getting cancer. However, there is no way to guarantee that you'll never get cancer, no matter how carefully you control your diet and lifestyle. Nevertheless it's an excellent idea to do what we can to reduce our risks. Cancer is actually a complicated collection of different diseases, and so specific behavior changes may reduce the risk of certain cancers but not others. For example, a high fiber diet may reduce the risk of colon cancer, but not skin cancer.
Also note that it's very hard to prove that any one dietary change (such as consuming a larger amount of one particular vitamin or herb) has a direct impact on cancer risk. What works is sometimes more general (such as avoiding becoming obese). Here are some  behavior changes that have been scientifically proven to reduce cancer risks or prevent certain cancers:
1. Smoking cessation
2. Regular use of sunscreen
3. A diet rich in fiber (i.e.lots of fruits and veggies and whole grains)
4. Maintaining a healthy weight
5. Regular exercise
6. HPV vaccines (especially for young girls – can prevent cervical cancer) and hepatitis vaccines (can prevent liver cancer)
7. Drinking very little alcohol (no more than 1 drink/day)
Screening for cancer is also important – because catching a cancer early is often the best way to cure it. The most effective screening tests are:
1. Colonoscopies (for adults over age 50)
2. PAP smears (for sexually active women and women who haven't had hysterectomies)
3. Physical exams to check for skin cancer, oral cancer, and testicular cancers
Mammograms and prostate blood tests are less effective at catching cancers early, but they are recommended by most medical professional associations.
I recommend reading this page at the National Cancer Institute for more information about avoiding cancer risk factors:
Multivitamins are not recommended for cancer prevention. Although it would seem that vitamins could help reduce the risk of cancer, large studies have shown that they do not reduce the risk of cancer, and may even increase one's risk (especially vitamin E.) The best source of vitamins is healthy food – and their fiber benefits are excellent as well. For a nice summary of the unhelpfulness of vitamin supplements, please see this ABC News summary of recent research.