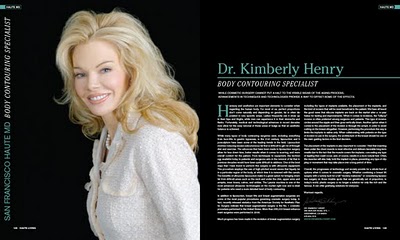 I must say I think Dr. Kimberly Henry, cosmetic surgeon, has made a big professional mistake. She has filed a lawsuit to stop online reviewers from badmouthing her on the Internet. She is seeking injunctions against at least 12 reviewers from sites such as Yelp.com and DoctorScorecard.com. Dr. Henry claims libel and defamation, invasion of privacy and interference with prospective economic advantage and is seeking $1million in general damages and $1million in special damages, etc.
Now I don't know Dr. Henry nor do I know of her plastic surgery technique. I don't know who the disgruntled patients are or if they are unfairly targeting her. What I do know is that the Internet is here to stay and there's no place to hide if you don't provide excellent customer service.
I was curious and checked DoctorScorecard.com and there is a new complaint placed today, so I don't think this publicity is helping her. It will bring more angry patients out to comment, I'm afraid.
A similar case was filed last year by a dentist in San Francisco, Gelareh Rahbar, who filed a case against a patient who wrote a negative review on Yelp.com. The case was thrown out by the judge and Rahbar was ordered to pay $43K for the patient's legal fees. Anti-SLAPP (strategic lawsuits against public participation) laws provide some protection for online commentators as a preservation of free speech.
I wrote about medical rating sites back in 2007 and in 2008 and those posts have proven to be correct. (Reading my old posts is rather interesting and I agree with myself all over again!) I know some physicians feel it is unfair that angry patients can say whatever they want and there is no rebuttal. But if a surgeon has that many disgruntled patients who would take the time to comment, there might just be a problem. And let's face it, those sites are anonymous and I know of doctors who post their own "good" ratings. It swings both ways.
I feel sorry for Dr. Kimberly Henry because no one likes criticism and public critique is especially hard to swallow. But bringing it even more public with a lawsuit (that may be hard to win!) is just throwing oil on the fire. Better to spend that time and effort satisfying patients and asking them to post great comments to counteract the bad.
*This blog post was originally published at EverythingHealth*