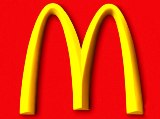 I'm trying to get off the topic of fatness, but just when it seems right to move on to something less hopeless, we hear that even doctors can be felled by obesity's resilience.
To the Physicians Committee for Responsible Medicine, a group of well-meaning doctors who are buying expensive TV ads blaming McDonald's for heart disease, I have just 5 words: McDonald's is not the problem! Gosh. It's maddening to think that such smart people could be that misguided — a whole committee of doctors completely devoid of any master-of-the-obvious is hard to fathom.
Don't misunderstand — I'm not advocating McDonald's food as overly nutritional, but blaming MacD's for our obesity epidemic is like blaming guns for violence (for the record, guns scare me), brew pubs for alcoholism, or religion for war. (Sorry, that last one is a bad example.)
Is a grilled chicken sandwich that bad? Is a hamburger sans cheese and special sauce that horrible? How about orange juice, scrambled eggs, or fruit yogurt? No, we're not talking about $12 organic avocados, or kale greens, or free-range chicken (given novocaine before harvest), but it's also clearly true that a person isn't forced to gorge on McFlurrys or Big Macs and fries.
The medical community — no, society — will have to solve the obesity epidemic without annihilating fast food restaurants. We will have to live in harmony with temptation. Doctors should know this.
JMM
(Disclaimer: Long ago, before there were blogs, I bought 10 shares of McDonald's. I still have them.)
*This blog post was originally published at Dr John M*