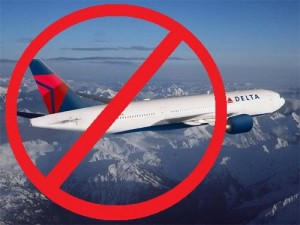 I've been following the recent Delta airlines flu vaccine kerfuffle with interest and now amazement. After running in-flight infomercials by a notorious anti-vaccine group (NVIC), the American Academy of Pediatrics alerted Delta to the faux pas with a letter from president Robert W. Block, M.D. I had assumed that Delta would be grateful for the head's up, and would immediately remove the infomercials. Instead, they chose to ignore the letter, denying that they saw any harm in associating themselves with anti-vaccine activists. Despite the warning, they will continue to run the ads through the month of November.
Every year the influenza virus kills as many as 49,000 Americans and 500,000 individuals world-wide. According to the CDC, the best defense against these often preventable deaths is the influenza vaccine. Since viral spread is especially likely in closed quarters where air from infected individuals is recirculated (such as in an airplane) it is critical for extra precautions to be taken before and during air travel. In addition to yearly flu vaccination, the use of alcohol-based hand wipes, regular hand washing, covering one's mouth during coughing, are recommended. Since the flu virus can live in droplets outside the body for up to 48 hours, door knobs, seat covers and tray tables can spread the virus from passengers on previous flights.
I don't understand why Delta, having been duly informed of their mistake, would continue to run ads from a group that misinforms Americans about vaccine-preventable illness. I wanted to believe that they would do the right thing, but apparently they "signed out AMA" on this one.
Which means that I will NOT be flying Delta in the foreseeable future and I hope you won't either. When US physician organizations are flat out ignored by corporate executives, it leaves us with only one choice – to speak with our feet. Sadly, the bottom line may matter more to them than the health and safety of their passengers.
***
You may sign a petition against Delta's actions here. Or use the #DontFlyDelta hashtag on Twitter.
***
Copy of the letter from Dr. Block to Delta CEO, Robert Anderson:
November 4, 2011

Richard Anderson

Chief Executive Officer

Delta Air Lines

Dear Mr. Anderson,

The American Academy of Pediatrics (AAP) objects to the paid advertisement/public service message from the National Vaccine Information Center (NVIC) being shown throughout the month of November on Delta's in-flight programming. The ad urges viewers to become informed about influenza and how to stay well during the flu season without resorting to the influenza vaccine.

While hand washing and covering sneezes are parts of a larger strategy to prevent the spread of influenza, influenza vaccine continues to be the best way to protect against the disease. It is especially important in enclosed settings where disease droplets can easily spread to passengers sitting in close quarters, especially infants and children and those with special health care needs.

The AAP and many other child health organizations have worked hard to protect children and their families from unfounded and unscientific misinformation regarding vaccine safety. The influenza vaccine is safe and effective.

By providing advertising space to an organization like the NVIC, which opposes the nation's recommended childhood immunization schedule and promotes the unscientific practice of delaying or skipping vaccines altogether, you are putting the lives of children at risk, leaving them unprotected from vaccine-preventable diseases. Diseases like influenza can have serious consequences. From September 2010 to August 2011, 115 children died from influenza disease, most of whom were unvaccinated.

The AAP's 60,000 member pediatricians urge you to remove these harmful messages, which fail to inform the public about the safety and efficacy of influenza vaccine. Please do your part to help reassure parents that vaccinating their children is the best way to protect them from influenza disease, particularly during this busy travel season.

Sincerely,

Robert W. Block, MD, FAAP

President, American Academy of Pediatrics