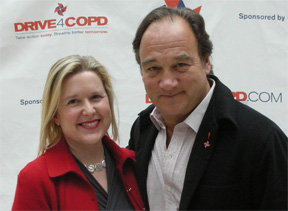 It's not every day that a physician is invited to be screened for chronic obstructive pulmonary disease (COPD) by a comedian. But this event was no joke – actor Jim Belushi is in a contest with Danica Patrick, Bruce Jenner, Patty Loveless, and Michael Strahan to see who can get the most Americans screened for COPD. It's a tough race for a good cause – though I'm not sure if Jim stands much of a chance in a competition against Danica Patrick. Maybe my blog readers will vote for Jim and give him the bump needed to keep him in the running? Please take the screening test here, or forward it to friends who may be at risk (age over 35, history of smoking).
Like any good blogger, I had my trusty digital recorder with me and got in a few questions with Jim. Special thanks to South African blogger Delre Roberts, who gave me the idea for my leading joke to Jim via Facebook: "How's a comedian going to screen a doctor for COPD?  See how short of breath she gets from his jokes?" Good one, Delre! You got a laugh out of Jim… Check it out:
Audio clip: Adobe Flash Player (version 9 or above) is required to play this audio clip. Download the latest version here. You also need to have JavaScript enabled in your browser.
COPD is the fourth leading cause of death in the United States, and only half of the people who have it have been diagnosed yet. Jim's dad had COPD – and moved his family around the country in search of "better air" for him to breathe. In reality, his problem was not air pollution – it was lung disease.
If you think you might have COPD – or know someone who might – please complete the simple screening questionnaire at Drive4COPD and talk to your doctor if you're determined to be at risk.
Resources: