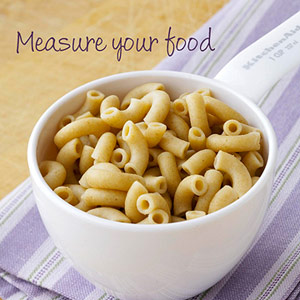 I was raised by a health food zealot, and have been "eating clean" for most of my life. I have been an editor of a peer-reviewed nutrition and obesity journal, a food critic, and a dairy farmer. I am passionate about food – but I am also passionate about science. And I have to tell you, that for measurable health benefits, how much you eat is more important than what you eat.
I know this is controversial, and I'm certainly not saying that we should throw out all our leafy green veggies and grilled chicken and chow down on a diet of Twinkies and beer. But what I am saying is that the relative importance of food volume versus food quality has been misrepresented. We are focusing too much on specific nutrients and not enough on total caloric intake. I'd guess that what we eat is about 10% of the obesity problem, and how much we eat is 90% of the problem, but we spend 90% of our time talking about changing and improving what we eat rather than portion control strategies.
Consider these research-based findings :
1. The CDC has determined that 90% Americans get all the nutrients they need from the food they eat. Even "crappy" US diets actually do provide the minimum nutrients needed to avoid disease and malnutrition. I know this is surprising, but vitamins and supplements are simply not needed by most people.
2. Measurable health benefits occur from weight loss as small as 5-10% of total body weight. You don't need to be a bikini model to achieve the health benefits of weight loss. You can decrease your blood pressure, sugar, and cholesterol with modest weight losses. In my opinion, leanness under about 25% body fat (for women) is mostly an aesthetic choice, not one of medical necessity.
3. Exercise benefits are largest at minimal levels. Going from sedentary to slightly active provides a larger health benefit than all additional increments of exercise. Thirty minutes of exercise, five times a week, is the minimum bar set by the Department of Health and Human Services. Anything beyond that is still valuable, but doesn't decrease health risks by as much.
4. It matters more to lose weight, than it matters how you do it. Head-to-head studies of one diet versus another have repeatedly shown minimal differences in health benefits between the diet groups. The benefits occur from the weight loss, not from the manner in which it was lost.
This is all good news. Americans can achieve healthier outcomes with less effort than generally believed. Regular exercise, and a calorie-controlled diet (rather than rigidly controlling the macro and micro nutrients) are all that is required to substantially reduce the risk of many costly and unpleasant diseases. If you want to further optimize your health by eating a diet rich in fruits and veggies, whole grains, low-fat dairy, healthy fats, and lean protein please do so! But better to be a normal weight than obese due to eating too much of that healthy diet.
The bottom line is that you don't have to give up eating the things you like, you just have to eat less of them. Even Olympian Carmelita Jeter eats Hostess cup cakes occasionally. And she's the fastest woman in the world!
P.S. This blog post was inspired by a Twitter conversation with @Judith_Graham who said that the complicated issue of what to eat was too difficult to address in 140 character exchanges. Thank you, Judith!
P.P.S. Also, I've been thinking a lot about well-meaning but misguided (IMO) health policy issues raised by mayor Bloomberg's ban on Big Gulps and the AMA's endorsement of soda taxes. Bloomberg was pointing in the right direction (the size of the soda, not the soda itself was the problem), but I don't believe you can regulate good behavior. Education and personal responsibility are the way to go.