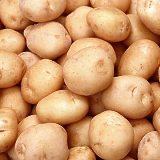 Antioxidants are important substances that prevent free radicals from damaging cells, and potatoes contain substantial amounts of them.
However, researchers from Obihiro University in Japan thought that more would be better and have developed some innovative methods of boosting the potato's antioxidant content. By immersing the potatoes in water or salt and subsequently applying ultrasound or electricity for 5 to 30 minutes, they increased the amounts of antioxidants by as much as 50 percent.
From the press release by the American Chemical Society:
"We knew from research done in the past that drought, bruising, and other stresses could stimulate the accumulation of beneficial phenolic compounds in fresh produce," Hironaka explained. "We found that there hasn't been any research on the healthful effects of using mechanical processes to stress vegetables. So we decided in this study to evaluate effect of ultrasound and electric treatments on polyphenols and other antioxidants in potatoes."
The process might work for other foods as well and the researchers foresee a large market. The findings were reported recently at the National Meeting of the American Chemical Society.
Press release: Electrifying findings: New ways of boosting healthful antioxidant levels in potatoes…
*This blog post was originally published at Medgadget*