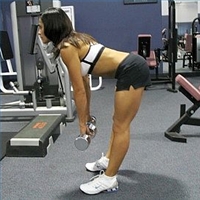 Since March I've been working out with a fitness instructor. She is the toughest, most motivated coach I've ever known. Sadly, today was our last day together because she's beginning maternity leave and I'm moving out of the area. I was reflecting on what made her such a great trainer, and I think the essence was her undying belief in everyone's ability to improve. Each exercise was a chance to do better than last time — to perfect one's form, do one more repetition, or to slow the speed of a lift or increase the resistance involved.
She never let me slack — she told me she believed in me, that I could do better, and that she didn't care how many reps I did, I had to do them the right way. There were times that I just wanted an "easy" workout, or when I'd ask for understanding: "Klaudia, can we ease up on the cardio a bit today, I just ate lunch?" I'd ask. "That's okay," she'd smile, "I have a bucket for you right here if you need it."
Frequently she'd time me racing repeatedly up and down seven flights of stairs…
…and when I fatigued she'd find a way to motivate me: "Pretend the building is on fire and you have to save the baby on the 7th floor." I'd laugh and groan…and also cut a few seconds off my time.
Klaudia always praised me for my efforts, even when I was shaking or panting and beet red. I'd tease her about her sneaky ways to get me to do more than I thought I could (she had many ways to modify an exercise to make it harder, all the while leading me to believe that I was getting a break.) It's hard to believe that I actually looked forward to our sessions, because after seven months of training I'm still sore after each one of them!
One day we accidentally overdid it on some calf raises. Two days later I was so sore that I had to cancel our next session (the ONLY time I did so). Klaudia immediately called me and encouraged me to come in anyway. "How do you expect me to get there, Klaudia? I don't have a wheelchair," I snipped. "We can still do upper body exercises!" she responded jubilantly.
There's a lot that healthcare professionals can learn from Klaudia. I bet if we had her attitude with our patients we could motivate them to improve their health a great deal. When we believe in our patients' ability to change, they will believe it, too. Everyone can improve something about themselves. Each day offers us the opportunity to strive a little harder, push a little farther, sweat a little longer — no matter what our "disabilities," there is no limit to what we can work on.
Klaudia's faith is both inspirational and infectious. In our final conversation today, I told her I planned to create a home gym for myself, including buying a rack of free weights. The conversation went something like this:
Dr. Val: Well, I don't think I'll need a full set of free weights. I'll never be able to lift anything more than 30 pounds I'm sure.
Klaudia: Sure you could. You should get a full set.
Dr. Val: Are you kidding? I'm not going to be bicep curling those 60-pound dumbbells.
Klaudia: Why not?
Dr. Val: Well, because everyone has physical limits, and I probably won't ever be able to bench press a car either.
Klaudia: You could do it.
Dr. Val: Bench press a car?
Klaudia: Well maybe not, but probably 160 pounds.
Dr. Val: Are you kidding me? There's no way…
Klaudia: It might take a few years, several hours a day, but…
Dr. Val: Uh…that's quite a commitment.
Klaudia: You could do it!
Ah, Klaudia. I will miss your enthusiasm, energy, and positivity. I hope I can take what you've taught me and apply it to others in my life, especially my patients. And maybe one day I'll be able to bench press that car…
*********
P.S. Klaudia is a fitness instructor at Fitness Together (FT) in Alexandria, Virginia. FT has a unique approach to fitness, and is designed to pair each client with a private trainer in a separate area of the gym. The 1:1 attention focuses the workouts like nothing else. If you're looking for a gym in the DC area, I'd highly recommend checking them out!