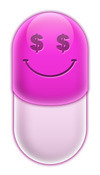 This week the FDA will vote on flibanserin, the much-talked-about drug for women with the condition called hypoactive sexual desire disorder or — because everything in sexual health needs an acronym like ED or PE — HSDD.
On the eve of the FDA vote, CBS last week ran still another story about flibanserin. This drug has received so much news coverage, you'd think it cures cancer.
And CBS did little more than promote the hype even more, saying FDA approval "could translate into a $2 billion market in this country alone" and then failing to challenge the disease-mongering estimate of "10 percent to 30 percent of women" with this condition. It all just goes along with the drug company's efforts to build a demand before the drug is even approved.
In fairness, the story did call it "a rather vague diagnosis" and did say that some "critics say creating a pharmaceutical solution is driven by greed. "
But then it flip flopped by offering only a single patient anecdote, a woman who didn't want to be identified, who was "desperate" after "losing her sex drive completely" and who now says she is "definitely improved" after being in a trial of the drug.
Meantime, this weekend I got an e-mail from a group calling itself "The New View Campaign" which opposes FDA approval of the drug. They've posted an online petition.
This group says the drug:
1. Offers only TRIVIAL benefits to women's sexual lives, as shown in the company's clinical trials.
2. Might have serious ADVERSE EFFECTS when marketed to a large population.
3. Comes with an AGGRESSIVE MARKETING campaign to convince women that sexuality is located in the brain, and that low sexual desire suggests chemical imbalances in the brain.
4. Contributes to UNDERMINING and CONCEALING social and cultural issues that lead to women's problems with sexual desire.
5. Tends to pathologize normal sexual diversity and therefore NARROWS the "cultural ideal" around female sexuality.
6. Represents a classic case of the pursuit of PROFIT rather than women's sexual pleasure and scientific knowledge.
A few issues that CBS didn't touch on.
A few weeks ago, Medscape quoted Gail E. Wyatt, Ph.D., a sex therapist, psychologist, and professor in the Department of Psychiatry and Biobehavioral Sciences at the University of California, Los Angeles:
"There are sometimes good reasons why women have no sexual desire. They may be in a relationship that's unhealthy or where there's physical or sexual violence. …This drug is not going to be a panacea for sexual problems, because often sexual problems are complex and happen for a good reason. My concern is that by prescribing patients a drug like flibanserin, we are medicalizing sexual function, rather than understanding the problem."
Finally, blogger Merrill Goozner writes:
"I have a much more prosaic concern. Because I write often about prescription drugs, I get inundated with email spam from robots selling male sexual dysfunction drugs (I don't want to use their names because it only adds to the volume). Approval of flibanserin will double that volume. So in the name of God, I beg the FDA committee: Stop spam! Vote 'no' on flibanserin."
*This blog post was originally published at Gary Schwitzer's HealthNewsReview Blog*