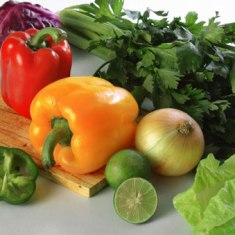 The Environmental Working Group (EWG) is a non-profit focused on public health. We know that the long-term consequences of eating chemicals from pesticides used on our foods is damaging to our health.
The EWG analyzed data from the FDA and found that people who eat five fruits and vegetables a day from the "Dirty Dozen" are eating 10 pesticides a day. We want people to eat more fruits and vegetables, but NOT to ingest more chemicals. Rinsing reduces but does not eliminate pesticides. So what's the answer? Rinse completely and buy the "Dirty Dozen" foods organic whenever possible.
The "Dirty Dozen" are:
Celery
Peaches
Strawberries
Apples
Blueberries
Nectarines
Bell Peppers
Spinach
Cherries
Kale/Collard Greens
Potatoes
Grapes (imported)
Summer is a great time to visit farmer's markets. Fortunately, stores like Safeway are now stocking organic fruits and veggies. Start with the "Dirty Dozen" and do your body a favor.
Got an iPhone? Check out this site and download "The Shopper's Guide to Pesticides" app.
*This blog post was originally published at EverythingHealth*