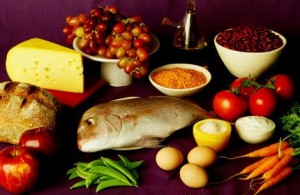 Over the past 6 weeks, 5 families (selected by the Boys & Girls Clubs) have been working hard to develop new healthy eating and exercise patterns (part of The Triple Play Fit Family Challenge). Their ultimate goal is to maintain these habits for a lifetime, and teach their peers to follow in their footsteps. Next week I'll be traveling to Los Angeles to meet the families and participate in the awards ceremony – where the winning family will receive an all expense paid vacation. (Maybe if I play my cards right they'll take me with them? One can always dream…)
I myself have been challenged to encapsulate all the best nutrition research into simple guidelines for daily living. I gave it my best shot in this blog post, and today I'm going to review some final food philosophy, straight from one of my favorite books, Food Truths, Food Lies.
Food Truths:
Calories matter most – food is like fuel. It is burned for energy, and when we have reached our daily calorie needs, the rest is stored as fat. Some food is more calorie-dense than others, but the bottom line is that to maintain our weight we need to balance calories in (what we eat) with calories out (what we burn through activities of daily living and/or exercise).
You can't exercise your way to weight loss. In other words, you can't outrun your mouth. Just think about it – you can easily eat more calories in 10 minutes than you can work off in 2 hours. Exercise is very important for your health, but without a nutritious, calorie-appropriate diet, you can exercise like crazy and not lose any weight.
Metabolism is not to blame. Food intake and exercise matter more than genetics for the vast majority of Americans. Weight loss takes hard work and discipline. It is so difficult that we sometimes wonder if there's something wrong with our metabolisms (such as thyroid gland malfunction) but the hard truth is that for most of us, that's not the case.
You are what you eat (what you eat matters!). Research has shown that a diet rich in fruits and vegetables, lean proteins (especially fish), whole grains, and low-fat dairy products is the best way to prevent many diseases and maintain a healthy body.
Food Lies:
Juice is good for you. Most fruit juices are packed with sugar and are very high in calories. Eating fruit, instead of their juice concentrate, is a much healthier option because of the added fiber and lower amounts of sugar. Water is an inexpensive and healthy option for daily fluid replacement needs.
You should get your money's worth. Portion sizes in America have doubled in the past 20 years. Restaurants and food manufacturers seem to be in an "arms race" to produce the largest portions possible. They argue that they are providing value with these huge portions, but in reality, it often results in over-eating and weight gain. Do not feel pressured to eat everything on your plate or to buy the largest item because you're "getting your money's worth" that way. Find ways to cut your portions down to a healthy size, and save the rest for later!
You can't change. Unfortunately, many people feel fatalistic about their weight. They convince themselves that they "have big bones" or are built to be "large" and they don't believe that they can lose weight and change how they look. This is not true. Anyone can change – and believing that you can is often the first step on the road to success.
You don't eat that much. Dieters often complain that they can't understand why they're not losing weight when they "don't eat that much." The hard truth is that most of us consume more calories than we realize. One research study found that people ate almost 30% more than they thought they did when their food intake was measured by an independent source. If your scale is stuck, take a very close look at your calories. Be patient, the calorie math always works in the long run.
For more great tips, I'd encourage you to read Dr. Marcotte's book in its entirety. As for me, I've adopted the successful behaviors of the people in the National Weight Control Registry and hope that I'll be able to maintain a healthy weight for the rest of my life. If I begin to see weight gain, I'll have to remind myself of those (hard to swallow) food truths!
More Blog Posts About Nutrition & Healthy Eating for the Fit Family Challenge: