Appearing as a Second Life 3D virtual-world avatar at Mayo Clinic's "Transform 2010" symposium (watch the video here), Mrs. Q — a teacher and the anonymous author of the blog "Fed Up With Lunch: The School Lunch Project" — told the story of how her unique health mission has come to be. She's determined to help people understand just how sick our "healthy" school lunches really are.
Mrs. Q has sparked the interest of child health advocates around the country. Thanks to programs like First Lady Michelle Obama's "Let's Move Initiative" and Jamie Oliver's "Food Revolution," the nation is paying more attention to childhood obesity and school lunch reform.
Mrs. Q's blog was started because of her own experiences with school meals after she ate the food prepared at school because she forgot her lunch at home. She keeps her identity a secret due to fear of losing her teaching job.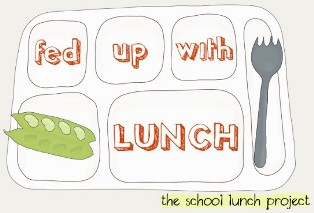 Motivated by her own frustration with the U.S. school lunch program — both as a mother and a teacher — Mrs. Q is committed to eating school lunch every school day in 2010, right along with the kids in the unidentified elementary school where she teaches. She blogs and tweets about and posts photos of the meals she's been served, noting her own health changes — including things she never expected, like how her sense of taste is changing from eating school lunch every day.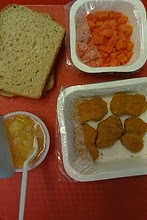 "Why does our country feed the food it does to our school kids?" she asks. Some staggering statistics about school nutrition and exercise in America:
— An estimated 11 million children get at least half of their daily calories from school meals — meals that experts say consist of mainly overly-processed foods such as chicken nuggets, tator tots, and many products loaded with high fructose corn syrup.
— About 30 million students in 100,000 U.S. schools reply on the National School Lunch Program (NSLP) every year, and 10 million students eat federally-funded breakfast at school.
— According to a 2009 study in the Journal of Pediatrics, 30 percent of 3rd graders have no recess.
Mrs. Q's concern expands beyond the lunchroom to include the value of "lunch time" and healthy eating habits in general for kids. "I estimate that on average our school kids are only getting about 9 to 13 minutes to eat lunch," she says, and feels strongly that this is teaching our kids that "lunch is meaningless." She says that "food, health, nutrition, and exercise have no real place in our schools." Her mission is to help change this.
Mrs. Q has been interviewed on Good Morning America (in shadow) and NPR radio. Her blog has been featured on abcnews.com, USA Today, AOL Health, and the Yahoo! homepage, getting 5,000 to 10,000 hits per day from an audience of doctors, nutritionists, parents, chefs, and foodies. She's using social media to provide a gathering place for people concerned about the quality of children's food at school and how it affects their health.
Mrs. Q lives and teaches in Illinois. She is married and the mother of a toddler.