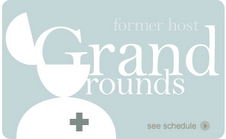 Dear Medical Bloggers – Better Health is pleased to be hosting Grand Rounds on November 8th, 2011. Please submit your best post to us via email to dryden.epstein@getbetterhealth.com
Put "Grand Rounds Submission" in the subject line. Give us the link to your blog and the permalink to the post that you'd like us to feature – along with a brief description of the post.
There is no theme – as usual, we'd like to know what's on your minds first and then if a theme shines through the submissions we'll run with it!
We look forward to reading your posts!
Val Jones & Dryden Epstein