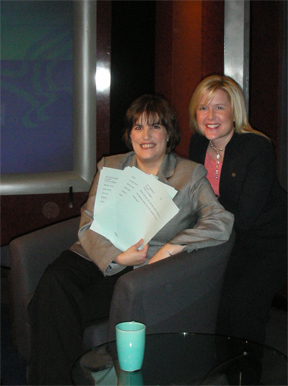 The Department of Health and Human Services held a blogger-targeted webcast about the H1N1 flu today in Washington, DC. Although Secretary Kathleen Sebelius had planned to co-lead the event, she was called to the White House for some healthcare reform deliberations – which might take a while? (She promises to try again to speak to us bloggers at a later date, though, so I'll be sure to let you know when that happens). Dr. Anne Schuchat, Director of the National Center for Immunization and Respiratory Diseases, carried the event with ease, and Jenny Backus (Acting Assistant Secretary for Public Affairs – pictured with me) moderated the incoming blogger and Twitter questions.
This was a particularly entertaining webcast for me because I was invited "behind the scenes" to witness the event at the HHS studio as well as submit questions for Dr. Schuchat's consideration. The webcast is available for viewing on the HHS YouTube channel.
What you may not get from the webcast, however, is how much work goes into HHS's efforts to communicate accurate information to the public. I was very impressed with the studio space (it has a National Press Club feel) and the staff are technically skilled and affable. So friendly were they that I "memorialized" our meeting with a few candid shots (below).Shame on me, though, for not catching their names for the captions! How embarrassing.
But I digress…
Dr. Schuchat did an amazing job of navigating tough questions on the fly – some were of a more medical and technical nature (guilty me) and others were from concerned consumers via Twitter. Please check out the webcast to see her answer my questions (below) as well as many others:
1. Since chicken eggs weren't the fastest vehicle for H1N1 vaccine production, are there other more efficient/speedy methods being considered for the future?
2. Please describe the process of H1N1 vaccine distribution. I understand that states determine how best to allocate their supply – but the view from the trenches is mighty confusing. Is there any way to streamline this, or make the prioritization more transparent?
3. What are the key learning points that you are taking away from this season's H1N1 outbreak?
4. What concerns you the most about upcoming flu season years? (E.g. will Avian Flu make a come back? Will H1N1 mutate into a more virulent strain – like the Spanish flu?) What are you doing to prepare for those potential concerns?
Many thanks to Candice Donald, my HHS escort at the event. Candice is the HHS social media liaison focused on reaching Native Americans with important health messages. She herself is a Native American from Arizona, and has promised to be interviewed for my blog sometime soon.
Also, a big thank you to Erin Edgerton for her social media and blogger vision, and to Jenny for moderating the event and posing for my blog photo.
And here are some shots of the unsung heroes – those hard working crew whose names I'll have to get next time, if I'm invited back!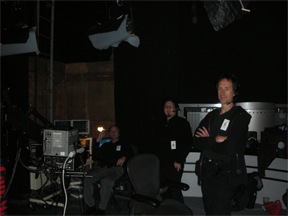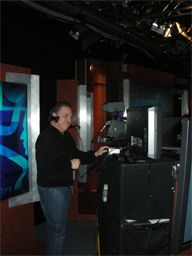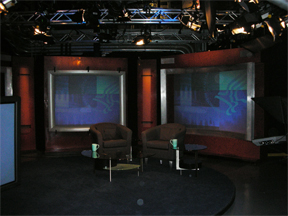 Also check out the CDC's impressive social media flu campaign page here.