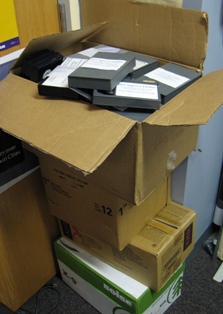 Healthcare journalists are buried under a mountain of public relations material sent to them every day of every week of every month. I don't even work in a traditional news setting, yet I've made it onto the distribution lists of countless PR people.
The picture on the left shows a pile of video news releases sent to one TV health news reporter over a relatively short time span.
Here's my year end look at just some of what was sent to me this year. Imagine what the New York Times, USA Today, the TV networks, and others receive.
I get countless emails from PR people offering interviews with their experts on:
• Seasonal Affective Disorder (SAD) — including an offer of an interview with a "celebrity trainer" who claims to have trained Julia Roberts, Cindy Crawford, Jennifer Aniston, Claudia Schiffer, and Kim Kardashian. (Were they all SAD?)

• A leading NY dermatologist invited me to "sip on champagne" and sample his new "daily nutrition for skin" cream.

• "For the more than 50 million Americans suffering from frequent heartburn, the thought of Halloween celebrations can truly be scary."  — PR for NYC gastroenterologist who is also consultant to makers of a heartburn drug. One of his tips: "Don't just stock up on treats, prep your medicine cabinet" with the proton pump inhibitor of the company for whom he consults.

• Psychological impact of spending two months underground. After the Chilean mining accident, a PR firm offers an interview with a Philadelphia doctor of unknown and unspecified expertise.

• A belly dancer (seen on "Sex and the City 2") for a "fun story" on belly dancing as exercise.

• A "registered, certified clinical nutritionist" to talk about his company's "clinically studied performance-enhancing formula designed to improve athletic performance through optimized recovery."

• A dentist promoting his book, "The Teeth Whitening Cure: A Holistic Guide to Bright Smiles and Better Health in a Toxic World."
Product promotions proliferate: 
• "Ground-breaking Resveratrol nutrition bar" soon to be available in chocolate-raspberry flavor with the "highly-acclaimed anti-aging antioxideant resveratrol."

• A promotion of "National Chocolate Shake Day" — including the "dark chocolate essential antioxidant shake" for which the release says "These shakes … help the body improve resistance to infection, increase its energy supply, reduce the risk of coronary heart disease and certain cancers, slow down the aging process, create healthy hair and skin."

(NOTE: MD-journalist Ben Goldacre has written about antioxidants:

"The antioxidant story is one of the most ubiquitous health claims of the nutritionists. Antioxidants mop up free radicals, so in theory, looking at metabolism flow charts in biochemistry textbooks, having more of them might be beneficial to health. High blood levels of antioxidants were associated, in the 1980s, with longer life. Fruit and vegetables have lots of antioxidants, and fruit and veg really are good for you. So it all made sense.

But when you do compare people taking antioxidant supplement tablets with people on placebo, there's no benefit; if anything, the antioxidant pills are harmful. Fruit and veg are still good for you, but as you can see, it looks as if it's complicated and it might not just be about the extra antioxidants.")

• The Dr. Oz Watch-and-Win Hour — with a chance to win pure Omega 3 Krill Oil, "one of Dr. Oz's supplement superstars."

• The world's first elliptical bicycle appearing on "The Doctors."

• "Natural essence water" that saves men from nagging wives or girlfriends who may think you're a "schlub."

• In the fall, Coppertone reminding me that "just because the leaves are changing and the cool weather is here, it doesn't signal the end of sunscreen application."

• An "interactive player" available online to promote a tampon brand. The release says: "You also have the option to embed the page in your blog." (No comment.)

• An online tool to "detect movements associated with a light sleep stage and gently wakes you at the optimal time" — all for only $179.

• The opening of a South Korean center — "a lifestyle destination that offers an entirely new medical paradigm, one that replaces the dread of visiting the doctor with the enthusiasm of a kid in the candy shop."

• An offer to enter a journalism "competition" sponsored by an orthopedic society, promoting it with lines like: "Got Bone-Breaking Stories?" and "Have you written or reported on boomeritis?"

• "The next generation of tissue" — saline nose wipes."

• A leading medical center's news release headlined: "Stress accelerates breast cancer metastasis in mice."

• A note that started, "Gary: It's not too late to talk about peaches! Peach season lasts until the end of September" and then promoted new research "revealing that peaches and plums have the ability fight breast cancer."

• An offer of a DVD "that'll get couples moving together" — a DVD that "is sensual, not cheesy."

• An offer of a free sample (street value of $60) of a colon-cleansing/detoxifying product. (What do they know about my colon? Is it toxic? I didn't take them up on the offer.)

• A note that was entitled, "Chill Your Buns" that offered free samples of a "cold therapy" for hemorrhoids. (OK, what do they know about my buns and beyond?)
This is not all fun and games. In my 2009 report on "The State of Health Journalism in the U.S.," I wrote:
"The challenging nature of the news environment today threatens to make it more difficult for health journalists to maintain the wall that once existed between the editorial and advertising sides of the business, and perhaps less able to see through or deflect the influence of public relations professionals. For journalism, and for the audience it serves, this may be the most troubling trend today. … the danger is that with the increasing constraints in many newsrooms, the PR folks may be winning more often — getting their messages through to news audiences in a less filtered or unfiltered way. They're helping to provide content to fill the shrinking news hole — content that the shrinking news staff can't provide.

In an interview for this report, one East Coast newspaper reporter said that "My big fight was with the way PR people were basically able to steer news…The health team was relying more and more on public relations to provide the story, and sources for the story, and they had too much control over the story. When you let someone else who has an agenda — to make a hospital look as good as it can — [control the story], it gets in the way of finding that truth."
And, yes — I know good PR professionals and value their work. All journalists do.
*This blog post was originally published at Gary Schwitzer's HealthNewsReview Blog*