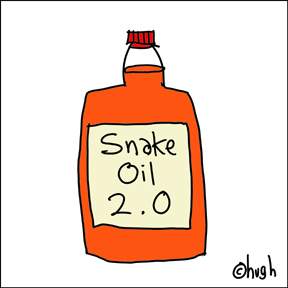 I've been warning folks about this for years – and alas, fake medicine and quackery has finally oiled its way into the healthcare reform bills. We are in the midst of a growing primary care shortage, and on the brink of vastly expanding health insurance coverage without increasing the supply of physicians and nurses. How will our country solve the supply/demand mismatch? Potentially by allowing people without appropriate training in science and medicine to become your "medical home." That's right – your next doctor or nurse may be someone with an online degree in snake oil salesmanship.
I know it's hard to believe… But please read this press release (reproduced below) for more information – and call your Senator to complain. Maybe we'll be able to get these sections removed before a bill passes?
The newly formed Institute for Science in Medicine (ISM; http://www.scienceinmedicine.org) expressed its concern today about provisions in current Congressional health care reform bills that require reimbursement of ineffective and potentially unsafe care.
The proposed legislation promotes a wide range of therapies and practitioners under the poorly defined term "Complementary and Alternative Medicine" ("CAM"). The "CAM" umbrella lacks a clear definition of its scope and philosophy, and thereby allows for the inclusion of unscientific and invalidated medical practices. In fact, free from any science-based standard of care or scope of practice, it attracts unscientific methods.
The House bill gives recognition, long-sought by special interest groups, to a host of unorthodox practitioners. Chiropractors, licensed "CAM" providers, and "integrative health practitioners" would be included as "health professionals" in the nation's health care workforce. By legitimizing ill-defined and unscientific "professions," the provision opens the door to a wide array of unsound diagnoses, useless and potentially dangerous practices, and unjustified additional expenditures.
Both the House and Senate bills provide for a "medical home" model, in which teams of health professionals provide primary care, but the Senate bill unfortunately requires that each medical home make "CAM" available.
Both bills mandate insurance reimbursement for state-licensed "CAM" providers and chiropractors equal to that of physicians or other health providers. Currently, all states license chiropractors; some license acupuncturists, homeopaths, and a subset of naturopaths. A reimbursement requirement would put additional pressure on other states to extend licensure to more and more non-science-based health "professions."
Congress may not fully appreciate the significant costs imposed by these mandates. In 2007, consumers spent nearly $34 billion out-of-pocket on "CAM." According to an NIH survey, most Americans who use "CAM" do so in addition to conventional care, not as a replacement.
The House and Senate bills would require government to shoulder much of the additional cost of unscientific and dubious health care through Medicare, Medicaid, and premium subsidies. With the passage of these bills, Congress will be giving a green light to practitioners who are unrestrained by professional ethics, the requirements of scientific evidence, or a defined scope or practice, thus paving the way for further waste, fraud and abuse.
ISM hopes that legislators and the public take note of these provisions in bills before Congress. The current administration promised a renewed dedication to science. Nowhere is science more vital to the well-being of every citizen than in the delivery of health care.
ISM Board Chairman Steve Novella, MD, a professor of medicine at Yale University, states, "The political process should not be used to subvert or override the scientific process of determining which medical interventions are safe and effective."
Contact: Linda Rosa, RN, Executive Director
Institute for Science in Medicine
Loveland, Colorado; 970-667-7313
###
About Institute for Science in Medicine:
Forty-two prominent physicians, researchers, scholars, and other professionals created ISM, an international policy institute that seeks to promote science as the best and only way to ensure not only safe, quality healthcare for the public, but cost effectiveness, as well. ISM sees an ongoing threat in the growing number of fringe practitioners and their medically dubious diagnoses and treatments. Part of ISM's mission is to alert the public and policy makers to the dangers of ignoring scientific validation of medical interventions.
Additional Comment by ISM President Mark B. Johnson, MD, MPH:
"I find it extremely unfortunate, and even alarming, that at a time when the house of medicine is focusing its efforts on re-establishing an evidence-based foundation to improve quality and patient safety, so many influential politicians and celebrities are lending support to unproven therapies, unscientific principles and outright quackery. Recent examples of this are the firestorm of protest against the U.S. Preventive Services Task Force's recommendations on the use of mammography and the CAM mandates in the health-reform bills. In the current state of confusion that many in the general population find themselves as to what constitutes good medical practices, the last thing we need is the licensure and governmental support of more substandard (CAM) practitioners."
Provisions of Concern:
Healthcare workforce and professionals:
Senate Bill (HR3590): Secs. 5101(h)(3)(i)(1) and (2)[p. 1295, line 2, to p. 1297, line 2]
House Bill (HR3962): Sec. 3101(4)(10) [p. 1669, lines 10-19]
Medical-home model:
Senate Bill (HR3590): Sec. 3502(b)(4) [p. 1068, line 21, through p. 1069, line 5], and
Sec. 3502(c)(6)(F) [p. 1071, lines 15-17]
House Bill (HR3962): Sec. 1833(p)(3)(A) [p. 702, line 21, through p. 703, line 9]
Insurance reimbursement:
Senate Bill (HR3590): Sec. 2706 [p. 95, line 8, through p. 96, line 2]
House Bill (HR3962): Sec. 238 [p. 133, lines 3-13]
Use of the derogatory term "allopathy":
Senate Bill (HR3590): Sec. (g)(1)(B)(i) [p. 1038, lines 15-16], and
Sec. 775(c)(1)(B)(ii) [p. 1322, line 6]
House Bill (HR3962): Sec. Sec. 3101(4)(10) [p. 1669, line 11]