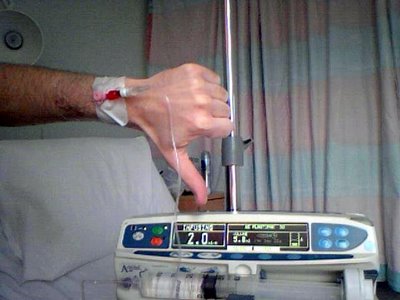 Every once in awhile I have the distinct "pleasure" of being a patient. This week I was reminded about how awful it is. I didn't mind the blood draws, poking and prodding, injections, or interaction with my physician, but it was the rudeness of the ancillary and administrative staff that really got under my skin. I had forgotten how unfriendly people can be, and how especially hard it is to deal with when you're not feeling well. Context is everything when it comes to rolling your eyes and sighing heavily. Let me explain.
Scenario A: You're in an electronics store and have just asked the clerk to reach up and pluck a product from a high shelf. He sighs and wanders off to get a ladder, rolling his eyes at how inconvenient the process is. Your response: A shrug and maybe even a little sympathy.
Scenario B: You're unable to get through to your doctor (who's on call after hours) about an emergency and are on the verge of going to the ER. You've paged him through multiple operators at the call center every 15 minutes for the last hour and a half without a response. You scour the Internet in vain for an answer to your time-sensitive questions because you know that the wrong move at this point could cost you $16,000 — you have no health insurance. Every minute that passes brings you closer to an irrevocable decision. Beads of sweat form on your forehead.
You call one final time and meekly ask a new operator if perhaps there might be a "plan B" — or backup physician who could respond (since your only other recourse is to call 911 — something you really don't want to do), and she refuses to put you through to her supervisor, suggests you try driving to an ambulatory center (already closed for the day of course) and then reads the names of alternative hospitals (some of which are over 60 miles away) from a list while sighing heavily and then hanging up on you. Your response: Outrage and despair.
Now that second scenario sigh is a little bit less tolerable because of the context, isn't it? And the truth is that there's likely to be a complicated story behind many of the interactions between patients and medical staff. For this reason, healthcare workers should be extra sensitive in the way that they provide "customer service" to patients — this is not about widget purchasing, it's about serious life and death decisions. Each interaction should be treated with an appropriate degree of concern, because one may never know the full story behind the "simple" question being asked.
Unfortunately, my experience with rude call center staff is emblematic of a general trend in medicine: Hostile staff are ubiquitous. And I can only imagine that this negative attitude is osmosed from our toxic healthcare environment. Misery begets misery. Some reports suggest that there are extremely high levels of stress and burn out among primary care physicians and the trend is only worsening.
All I can say is that in the midst of this broken system, I want to strive to be compassionate — and being a patient reminds me of how important every interaction can be. Each staff person is part of a healing (or harming) experience. The onus is not only on physicians to care for patients — but every nurse, administrator, assistant, and technician on the team has a critical role to play. So next time when we're tired, irritable, or even exasperated — for mercy's sake, let's not take it out on the patients. That stray sigh or snarky comment can cause more harm than we know.
***
P.S. For those of you interested in how I resolved my near emergency — I'm ashamed to say that after playing "nice patient" for almost two hours, I did in fact go postal. I called back as "DOCTOR Valerie Jones" (rather than my untitled patient name, Val Jones) and demanded to speak to the supervisor. I managed to invoke the necessary fear in the man, and with voice quivering he got me a physician on the line within 60 seconds. I suppose that's what "empowered patients" have to do. But gee whiz, there was no need for this kind of escalation, and if we'd all play nice this would never have to happen.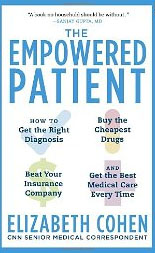 For more "going postal" stories, you might want to read CNN's Elizabeth Cohen's helpful new book: The Empowered Patient (you can find it here on Amazon.com.) Though I have to warn you, if you're a physician reading this you'll feel pretty darn depressed by the end, because all the stories begin with some medical catastrophe fueled by healthcare professional incompetence. I wish these were balanced with a few heartwarming stories of medical excellence, but maybe those are harder to find these days.