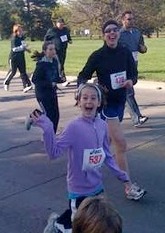 Kids are like dogs — you can train them until they're too old to train. Then they're going to do whatever they want.
The key to getting kids to exercise is to make it fun for them. But they aren't going to exercise if it isn't made a part of their normal routine. It's up to adults to train them.
Mrs. Happy and I had the joyous opportunity of inviting our 10-year-old niece to her first-ever running event. She had never ever run in a race before. We did the two-mile race and she loved it. And amazingly, she finished without stopping — not even once.
Our nation is raising a nation of fat and lazy kids because we're lazy adults. We drive everywhere. We sit at our desks. We get food on the run. We watch a lot of television. We surf the Net a bunch. And we have stopped moving. We have literally stopped moving.
Exercise is free. If you can walk, you can exercise. And it won't cost you a dime. We choose not to move, and we choose instead to suffer, and we choose to have others pay for our suffering.
Cancer, heart disease, diabetes and stroke. It's all our own fault for not moving. We could eliminate 80 percent of these disease processes by getting out and exercising, stopping smoking, eating more fruits and vegetables, and not becoming obese.  
Kids these days have little motivation to exercise when they see their parents plopped in front of the television smoking their cigarettes and surfing the Internet. Kids have an amazingly persistent pattern of doing what they see around them — monkey see, monkey do.
If you can train your dog to sit, you can train your kid to exercise. But you have to take up the call yourself if you want your kid to have any chance to becoming active  exercising adults.
If kids don't see their role models exercising, it's unlikely they'll ever pick up the habit as adults, and the cycle of obesity and disease and morbidity will continue indefinitely. While this cycle of self destruction may provide hospitalists with job security, our nation cannot afford my services forever. We need to keep our kids and adults out of the hospital, and we need to do that with lifestyle.
It's up to us as adults to engrain an active lifestyle into our kids. We can't fault our kids for being out of shape. It's our fault. It's our fault if our kids go down the path of being lazy and immobile sloths watching eight hours of television a day while snacking on Cheetos and Twinkies.
Our niece had a fantastic time running. Finishing the race was a confidence booster for her. Knowing she could do it makes her want to do it again. Plus the sponsor of this race has a whole circuit of fun race walks for kids.
Making exercise for kids fun is the key. Each race she completes she gets a prize. And eventually, America wins by keeping her out of the hospital and at home leading a productive role in society. We cannot afford a nation of obesity anymore. We need to make exercise fun for kids so their kids — and their kids, and their kids — stay out of our hospitals and lead long, productive lives.
Congratulations niece. You did well. We'll see you at the next race.
*This blog post was originally published at The Happy Hospitalist*