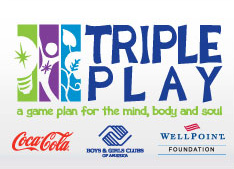 I'm proud to have been selected as the national, nutrition ("mind") coach for the Boys & Girls Clubs' Triple Play Fit Family Challenge. This is a 6-week challenge – five families (you can meet the families on the Fit Family Challenge blog) will compete for a grand prize: an all-expenses-paid vacation!
My job is to support the families with evidence-based nutritional information that they can use to establish lifelong healthy eating patterns. Proper nutrition is one of the most critical components of preventive medicine, and can help to reduce the risk for America's top 3 killer diseases: heart disease, cancer, and stroke (not to mention type 2 diabetes, osteoporosis, and high blood pressure). If these families help their kids to adopt healthy lifestyles now, they will have a lower lifetime risk of many major diseases. And I hope that the kids will also become evangelists for healthy eating to their peers!
I've been thinking a lot about what I've learned over the years as a nutrition journal editor, avid foodie, and rehab physician, and I think that (to begin) I can truly boil down all we know about American eating habits into these three pieces of advice (note that these are based on HHS's Dietary Guidelines For Americans, 2010):
1. Do not let yourself become very overweight or obese.
2. Eat MORE: fruits, vegetables, seafood, whole grains, and low-fat and fat-free dairy products.
3. Eat LESS: trans (animal-based) fats, cholesterol, salt, sugar, and refined grains.
I think that this is a great starting point for healthy eating. Notice that the advice doesn't include super foods, magic berries, or miracle supplements – because a healthy diet doesn't rely on those faddish things.
For the next 6 weeks I'll be sharing my thoughts about nutrition with the families here on the Better Health blog (and at the Fit Family Challenge Blog) so everyone can benefit from the process. In my next post I'll talk about what we can learn from the National Weight Control Registry – a database of people who managed to lose a substantial amount of weight and keep it off for a minimum of 1 year. (In fact, USA Today just published a story about this database here).
I've also chosen to use Dr. Eric Marcotte's book, "Food Truths, Food Lies" as background reading for the challenge. I think it's an excellent, practical manual – especially for those of us who need to lose weight.
Thanks for joining the challenge – let me know if you have any questions along the way!