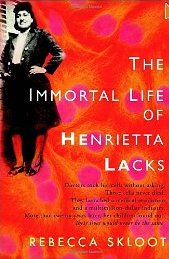 If you like science, true history, and an engaging story, pick up the new book by journalist Rebecca Skloot, "The Immortal Life of Henrietta Lacks" and prepare for a great read. I knew nothing about the young black woman whose cells were taken back in 1951 by a scientist at Johns Hopkins Hospital and how those cells have revolutionized modern cell biology and research.
The HeLa (named after HEnrietta LAcks) cells were taken as she lay dying on the "colored" ward at Johns Hopkins Hospital of aggressive cervical cancer at age 30. Everyone who studies basic cell biology has heard of HeLa cells because they were the first human cell line to be successfully grown in culture and they are alive today. HeLa cells were sent to researchers all across the globe and have been used to develop the polio vaccine, viruses, cloning, gene mapping and in-vitro fertilization. Billions of the same immortal HeLa cells are used by researchers fighting cancer, multiple sclerosis, heart disease, and diabetes.
Yet few people know anything about the woman who worked as a tobacco farmer and was buried in an unmarked grave. Author Rebecca Skloot takes the reader on a journey that starts in 1951 and takes us through the discovery of Henrietta's real identity in the 1970's. Henrietta Lacks had a life. She had five children and brothers and a husband who knew nothing of her immortal cells and how they were changing the world. As the author became obsessed with the story, she researched and sought out the family and her discovery changed their lives as well.
The story is somewhat shocking as the reader learns how blacks were treated by the medical establishment in the Jim Crow South. Equally surprising is the fact that biologic tissue is being used today in the same way, with the "patient" rarely knowing. No permission was granted for the harvesting of the HeLa cells and no information was ever given to the family until Rebecca Skloot helped them learn the true story as she learned it herself in research for the book. The family that cannot afford health insurance has never had any benefit from the multimillion-dollar industry selling human biological materials that came from Henrietta's cells.
I couldn't put "Henrietta Lacks and Her Immortal Cells" down. The author tells the Lack family story with compassion and stark reality. It reads like fiction but is researched like investigative reporting. The story speaks for itself. There are no victims here. There are no heroes. There is only a human interest story that lives today, just like Henrietta's cells, and it is high time it is known by all.
*This blog post was originally published at EverythingHealth*