Originally posted in MedPage Today
by Iltifat Husain
There has been a great deal of commentary profiling medical applications that are useful for healthcare providers. However, there hasn't been much talk about how mobile medical applications can enhance the doctor-patient experience and in turn help optimize your practice's overall experience. In future posts, we'll focus more on applications for medical providers, but this post will discuss applications centered around the physician-patient relationship.
We all know how busy clinic can be and this leads to increased waiting times for patients. Understandably, patients often complain that this is the most frustrating time for them, and no one likes walking in excessively late to an angry patient because you had to deal with another patient's medical emergency. So how can this downtime be made more bearable and productive at the same time?
Here is where the iPod Touch comes in.  It runs basically the same operating system as the iPhone and the applications I'll discuss work for both devices.
During a patient's waiting time in the waiting room or exam room you could give them an iPod Touch with some of the following applications pre-loaded.
Blausen Human Atlas ($19.99)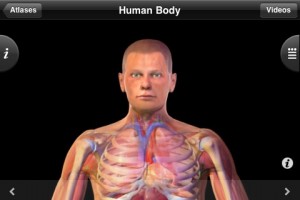 We reviewed this application in detail a few months ago, and I still continue to find uses for it. It's designed to help providers communicate medical conditions and procedures to patients in an understandable form. The application has 3D animation videos, a medical glossary, and a vast library of pictures. Every time I use this application with patients they're always stunned and impressed by it's visual interface.
The highlight of this application are the videos. They're aesthetically pleasing and do a fantastic job of explaining medical conditions and procedures in laypersons' terms. I've found patients actually enjoy watching them and feel better informed about their medical condition or procedure afterwards.
Primary care providers could use the videos and images to explain common conditions, such as GERD, osteoarthritis, and diabetes. Specialists and surgeons could use them to explain complex procedures such as cardiac bypass surgery, angiography, and Roux-en-Y gastric surgery. Pediatricians can show parents the mechanism of allergies and how ear infections occur. With the vast amount of information available, almost every provider can find some way to use this application.
The best way to utilize this application would be have the staff show the patient the video pertinent to their current complaint before you come in to the exam room. This way your patient gains a better understanding of their condition before you even walk in. Although the videos are no substitute for your own explanations, they could still save time because patients would understand you faster. The vast library of pictures could also be used to show where specific disease pathology is occurring in the body.
Unfortunately, this isn't a standalone application. A dedicated internet connection is required to view the videos, and the videos can only be used on an iPod Touch when you are connected to a Wi-Fi connection.
I'd recommend downloading the "lite" free version of this application before paying for it. You can also buy add-on atlases that contain more detailed information about your specialty.
Merck Manual – Home Edition ($9.99)
The Merck Manual – Professional Edition has been used by physicians for ages, but this condensed and shortened version, the Home Edition, is meant for patients. We have a full review of the Home Edition on our site. The app still contains much of the vital information the Professional Edition has, but it uses laypersons' language to get information across. It's basically a medical reference with Wikipedia-like wording, except authored by physicians.
While patients are waiting for you they could get a better idea of their current conditions or read up on comorbidities. The best part of this application is the E-Mail out option. If you're explaining a condition to a patient, you can easily bring it up in the app, and then e-mail them a link to the online Merck Manual page. The link will take them directly to the section you were discussing, and patients will be able to read up on their diagnoses at a later time from this legitimate source.
You need a WiFi connection for the E-mail out link to work.
Lose it (free)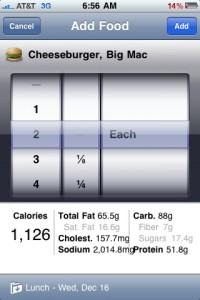 This is the number one downloaded application in the free healthcare apps category. This application is absolutely fantastic and I've used it on many occasions with patients when counseling on diet and weight loss. The app allows you to count your calories and keep track of your weight.
The highlight of the application is the database of foods it contains. I'm able to ask patients their diet on a typical day and use the app to show them the total calories incurred (e.g. you can look up the caloric numbers of a Big Mac with detailed nutritional numbers). It allows you to set goals with target weight loss dates, and with motivated patients I've actually sat down and set up specific weight loss programs with them just by using this application.
This is a great application to suggest to patients with iPhones as well.
Games
Yes, games. The majority of the App Store's top selling apps are games. The above three apps could be used by patients as a productive way to stay busy, but why not include some fun games during a patient's wait? There are plenty to choose from, and many of them are free as well. These apps could entertain an older population but they could be particularly useful when dealing with pediatric patients.
So there you have it. These are just a few of the ways medical and health related applications from the App Store can help you improve your patients healthcare experience. There are obvious barriers to implementing this plan in practice. You would probably need two or three iPod Touch devices, and they aren't cheap (about $180).
Also, you'd have to train your staff on how to use these applications in a quick and efficient manner. Unfortunately, the Blausen Human Atlas App needs a dedicated internet connection, so if you're not using it off the iPhone, you'd need WiFi for your iPod Touch.
On the flip side, these mobile devices could substitute for LCD screens or other medical reference items often contained in patient rooms. They could also end up saving you time. Remember, the iPhone can run all of these applications as well and you can use these applications while talking to patients.
At the end of the day though, these applications have the potential to improve your patients' healthcare experience, and give you a reputation as a tech savvy healthcare provider.
Iltifat Husain is founder and editor of iMedicalApps.com.
*This blog post was originally published at KevinMD.com*