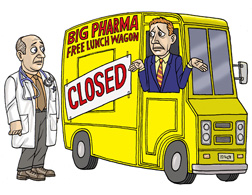 "Appetite for Instruction: Why Big Pharma should buy your doctor lunch sometimes" is the headline of an article on Slate.com that has upset many readers. I'm not terribly upset about it because it just seems too naive and misinformed to get upset about. The final line of the piece tells you all you need to know about the tone of the column:
"Ousting commercial support is creating a huge chasm in medical education, leaving doctors not only hungry but also starved for knowledge."
A number of online comments were posted in reaction to the piece.
Here's some of them: 
• "This columnist is dangerously misinformed."
• "Misleading"
• "This article really dropped the ball on any sort of reasonable defense."
• "Whoever wrote this must be a paid shill for the drug companies."
• "I wonder how many pharma paid lunches the author has had?"
• "This post has a naivete to it that is almost breathtaking."
• 'The manufacturer of Remicade has a huge financial incentive to advocate long-term use of Remicade, yet the author of this article doesn't see the inherent conflict of interest."
• (Physician:) "My experience has been that aside from providing info on new meds, what many salesmen (and a high percentage of stunningly attractive saleswomen) do is trash the competition's drug in an effort to get you to write for their own product. A lot of "new" meds being pushed are not really new but merely re-formulations or new combinations of old drugs designed to extend a soon-to-expire patent."
• "This article is both one-sided and under-researched."
• "I'm a bit disappointed about the one-sidedness of this article. First, I have to admit my biases. I am a physician who used to work in an academic medical center. While I was there, I wrote the policy banning pharmaceutical reps from bringing food and gifts to the medical residents, as well as tightening financial disclosure requirements for the faculty."
Illustration credit: Mark Alan Stamaty
*This blog post was originally published at Gary Schwitzer's HealthNewsReview Blog*