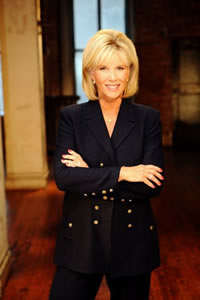 Joan Lunden
Former Good Morning America host, Joan Lunden, is getting behind the personal health record industry. As the daughter of a physician, Joan grew up believing that she'd become a doctor one day. She told me that all that came to a screeching halt when she "realized that she didn't like blood or stitches." But Joan has always kept women and children's health advocacy initiatives close to her heart.  She will soon be starring in a new Lifetime TV show called Health Corner. I caught up with her about her recent work with PassportMD.
Listen to the podcast here, or read a summary of our discussion below.
Dr. Val: Tell me about your experiences in taking care of your mom, and what led you to become involved with a PHR company.
Lunden: I lost my brother to type 2 diabetes a little over a year ago. As it happens, he had been managing my mom's medical care, and so with his loss I needed to step in and take it over. Of course she lives on one coast and I live on the other. I've got 4 little kids (two sets of twins) and three young adult children. It becomes really daunting to keep track of everyone's medical care. Around that time I met some folks from PassportMD, and when they showed me how easy it could be to keep everyone's records in one place, I said, "this is exactly what I need."
I think I'm really typical of a lot of women out there in what we call "the sandwich generation." Today a high percentage of women with small children are working outside of the home. It's really a lot to juggle – a career, raising a family, and getting everyone to the doctor on time – forget about getting YOU to the doctor on time. As good as we women are at nurturing others, we tend to be at the bottom of our own to-do lists.
What I really love about PassportMD is not just the organization (I can immediately see all my kids' vaccination schedules for example) but the fact that I'm building a family medical history. It's so important to know your family history so that you can engage in appropriate screening tests and take preventive health measures. This PHR even sends you reminders when its time for immunizations, mammograms, or other appropriate screening tests.
Dr. Val: As a doctor I've encountered resistance to PHRs from patients because they don't want to have to enter all the data themselves. They'd like it to be auto-populated with their medical record data so that they don't have to start from scratch. Has the PassportMD tool solved that problem?
Lunden: The PassportMD service has something called "ConcierCare" which functions as a personal concierge. You just tell them who your doctors are, who your parents doctors are, who your kids doctors are, and they go get the medical records for you and upload it (via fax) into your online database. If you can shop online and bank online, you can do this. It's really easy. They even communicate with doctors via HIPAA encrypted email and can upload diagnostic quality radiology images as well.
Dr. Val: Does PassportMD sync with the Google and Microsoft PHR initiatives?
Lunden: Yes, they built the PassportMD platform so that it would sync with Google and Microsoft and other online platforms, but the need to do so will come further on down the road. What I think sets this PHR apart is that they have no plans to analyze your health information or offer statistical information to third parties. They will never mine your health information for sales or research purposes and they don't share information with anyone.
I think it's really important for Americans to put their medical records online. Experts say that it could save our country 350 billion dollars a year if we did that. I understand that people are hesitant because of privacy concerns, but the day will come soon that online medical records will enjoy the same privacy protections that they do at your doctor's office or in a big medical facility.
Dr. Val: Do you think the average man or woman "on the street" really understands the value proposition (for them as individuals) of having a PHR?
Lunden: Probably not because this is all new. However, it seems to me that getting medical records computerized is one of the only issues in healthcare that both political parties agree on. And the medical establishment certainly understands this. If you look at the major medical institutions like Kaiser, Cleveland Clinic or Mass General, they're already doing this. They have systems in place that allow their doctors to share information online and receive notices of medication contraindications, for example. PassportMD takes this kind of approach and directs it to the consumer.
Dr. Val: What advice do you have for people with chronic medical conditions or for caregivers of loved ones with chronic medical conditions?
Lunden: They're the ones that need PHRs the most. Of course older folks who are not Internet savvy need them too, so their adult children should include them on theirs. It's easy to administrate your loved ones medical records on this PHR, and best of all, the information can be downloaded to a USB device so that people can take it with them anywhere they go. Doctors really need to access this background health information to deliver the most informed care. When they don't have this information they end up retesting us over and over again. The duplication of tests is a waste of our country's resources and it happens because doctors can't share medical records properly. If doctors could simply access our records when we wanted them to, there would be fewer medical errors, and better emergency decision-making. Of course, it would also dramatically reduce healthcare costs.
***
To listen to our full interview, click here.