One of the disturbing trends I have been observing in physiology is the tendency to move away from many of the gold standard, invasive measurements classically described in the scientific literature to non-invasive measures which may or may not accurately reflect the parameter of interest.
One of these non-invasive measurements (which is not used in any of the manuscripts on my desk) that has become the bane of my existence is to use the saturation of hemoglobin in arterial blood (SPO2) as a surrogate for the partial pressure of arterial blood (PO2). SPO2 is measured with a device called a pulse oximeter.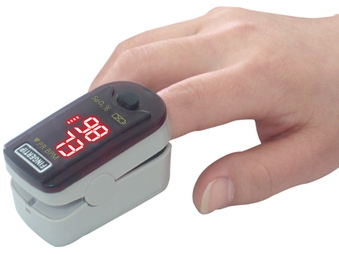 Figure 1: A fingertip pulse oximeter. This device indicates that this individuals arterial hemoglobin is 98 percent saturated and his heart rate is 73 beats/min.
In order to measure the PO2, you have to place a catheter (a piece of tubing) into an artery and draw blood from it. The PO2 is then measured by a device called a blood gas analyzer. You can click here for a post about the time I had a catheter placed in my brachial artery for this very purpose. Measuring PO2 is certainly much more invasive than measuring SPO2. 
What's the big deal and what does it all mean? The PO2 is a reflection of the amount of oxygen dissolved in the blood (see Henry's Law for you physiology lovers). Declines in PO2 indicate an inability of the lungs to properly transport oxygen from the alveoli to the capillaries. Why isn't it enough to measure the SPO2? Because the PO2 and SPO2 are related like this:
Figure 2: The oxygen hemoglobin dissociation curve. 
Normally the PO2 in our arterial blood is about 100mmHg. At that PO2, hemoglobin is 100 percent saturated. But notice that at 90 mmHg, hemoglobin is still about 100 percent saturated. At 80 mmHg, hemoglobin is still about 95 percent saturated with oxygen. Indeed, to get to a point where hemoglobin is 80 percent saturated, you have to decrease PO2 to 50mmHg, or by half. That is a huge decline in PO2 to see a much smaller change in hemoglobin saturation.
The point is, declines in PO2 are what we use to measure impairments in the lung's ability to oxygenate the blood and it takes a big change in PO2 to change SPO2 at all. When people use SPO2 to conclude that gas exchange in the lung is not impaired, they are just plain incorrect. You can't make that conclusion when you cannot examine the entire range of possible PO2s. So why do some people try to get away with using it? I suspect because either investigators, or their IRBs, are reluctant to place arterial catheters in human research participants. 
The trend in human research over the last 10 years has been toward less and less invasive studies. The trend may have been driven by the small number of research deaths at the University of Rochester, Johns Hopkins University, University of California-Los Angeles, and the University of Pennsylvania that some argue could not be prevented by even the current amount of IRB oversight.
Still. In some ways demanding less non-invasive measures is good — it causes investigators to stop and consider the safety and comfort of their research participants. But in many ways this is bad. The literature is now chock full of studies where the results are based on a non-invasive, indirect measure and the conclusions must be interpreted with this in mind. I frequently wonder how much these studies really tell us. Especially when every one must be interpreted with a margarita rim's worth of salt.
I also wonder about the ethics of performing studies using non-invasive, non-gold standard measurements. I understand the argument that patient comfort and safety should be considered. However, the safety record for many of the gold standard, invasive measurements is actually quite good. Because many of the non-invasive measures are less accurate, many of these studies require higher sample sizes. Is it ethical to study 100 participants, subjected to some physiological manipulation, with a non-invasive measurement when 6 participants with the invasive measurement would be sufficient?
Invasive physiological measurement techniques are not easy to use, but they offer important advantages over non-invasive measurements. We may be approaching a point in physiology where we need to seriously reconsider our decision not to use them.
*This blog post was originally published at On Becoming a Domestic and Laboratory Goddess*