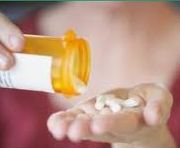 In a well done placebo-controlled study published in this week's Journal of the American Medical Association (JAMA), use of escitalopram (Lexapro) reduced hot flashes in menopausal women.
Investigators enrolled 205 women, randomizing them to either Lexapro 10 mg or placebo, with instructions to increase to two pills a day if needed after four weeks. Lexapro users experienced about a 60 percent reduction in hot flash frequency over the eight-week study. About half ended up on the larger 20 mg daily dose by study's end. The drug's effect was apparent at about one week of use, and it was well tolerated.
As in almost studies of menopausal treatments, the placebo group also experienced a significant reduction in symptoms — about 40 percent — but the difference between placebo and drug groups was significant. Compared to placebo users, Lexapro users had a bigger rebound of symptoms when stopping their treatment, were more satisfied, and more likely to want to continue the study drug, another validation of the drug's efficacy.
Add another SSRI to the list of drugs proven to treat hot flashes
The results of this study are not surprising. This class of anti-depressant medications (SSRIs and SNRIs) seem to have a modest but consistently shown impact on the vasomotor symptoms of menopause. All of the SSRIs studied to date seem to have a similar efficacy — about a 60 percent reduction in hot flash frequency. None work quite as well as estrogen does, but in women concerned about breast cancer risks, SSRIs may be preferable to hormone replacement, especially if mood issues are also significant symptoms.
Unlike their use in depression, where effects may not become apparent for six weeks or more, SSRIs begin to work within the first one to two weeks when used to treat hot flashes (and premenstrual sydrome or PMS too, by the way).
One advantage of citalopram is that, unlike some SSRIs (Paxil and Prozac), it does not appear to impair the efficacy of tamoxifen. These other drugs interfere with the conversion of Tamoxifen to its active metabolites. Effexor is probably the safest to use with Tamoxifen, and has similar efficacy against hot flashes. Other SSRIs that are considered safer than Paxil and Prozac are Zoloft and Celexa. Since hot flashes are a side effect of Tamoxifen use, it's nice to have yet another option to treat them. (In order of interference with tamoxifen, from highest to lowest interference, the SSRIs are Paxil, Prozac, Zoloft, Celexa, and Effexor.)
*This blog post was originally published at tbtam*