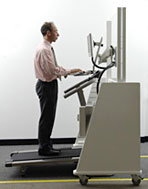 Obesity doesn't stand a chance against Dr. Jim Levine, one of the prestigious presenters at Mayo Clinic's Transform 2010 conference last week. Dr. Levine's fascinating research focuses on helping people understand obesity, weight reduction, and Non-Exercise Activity Thermogenesis (NEAT) — the idea that expending calories through the activities of daily living is more important for calorie burning than exercise is.
Dr. Levine's "Treadmill Desk" has won more than 50 national and international awards in science, including the Judson Daland prize from the American Philosophical Society, the Invention of the Future Award from NASA, and the Innovation Award at the World Fair. The "Walkstation" is now a product of Steelcase.
Dr. Levine's work has been highlighted nationally around the world, and he has produced documentary films with the BBC, ABC, and CNN. His Walkstation has been featured in The New York Times, his vision of a future where office people walk at work in USA Today, and his Treadmill Desk tested live on Good Morning America.
Dr. Levine holds the Richard Emslander Chair in Nutrition and in Metabolism. He is professor of physiology and a professor of bioengineering at the Mayo Clinic, and an internationally renowned expert in obesity, undernutrition, and human energy requirements.
Dr. Levine lectures around the world and is a scientific advisor to the U.S. government, United Nations, and the Government of the Peoples Republic of China, as well as throughout Africa and in Jamaica. He's also an invitee to the President's Panel on obesity.
As a media guest at the conference, I had the honor of talking with Dr. Levine about his important work in the fight against obesity, sedentary lifestyle, and "sitting disease":
Maria: How well received has the Walkstation been?
Dr. Levine: We've had a superb response from those who use it.
Maria: What is the greatest barrier to its adoption?
Dr. Levine: Cost is the biggest factor.
Maria: What will make the greatest impact in behavior modification towards fitness in America and how?
Dr. Levine: The conspicuous will of the people and their leaders. If everyone together decides we shall do this, it will work. We need one major city in America to take the plunge.
Maria: What new projects are you working on to help move Americans in a healthier direction?
Dr. Levine: We're working on city-wide plans and how to impact large cities.
Maria: What are the most promising programs or strategies to help make us a healthier nation?
Dr. Levine: Those that engage communities and real people, especially the underserved.
Maria: What can bloggers do to help the "healthier nation" initiative? What message would you like to pass on to e-patients?
Dr. Levine: Let's form a national movement in pen, art, and mind.
Learn more about Dr. Levine's NEAT research and see his "office of the future" in action. His "classroom of the future" focuses on targeting childhood obesity.
You can experience his September 14th presentation at Mayo Clinic's Transform 2010 symposium HERE (scroll down through the video clips under "Transform 2010 Archive.")
Also check out the Trek Desk.