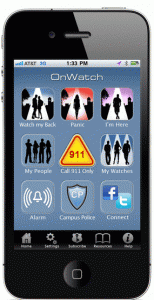 There aren't too many grandmothers developing mobile health apps these days, but I met a charming one (Jill Campbell) at the mHealth Summit yesterday. Jill is a 60 year-old woman from Texas who has been actively concerned for the safety of herself and her daughter over the years.
"My daughter took a self-defense class," Jill explained, "And she was taught the 'fight or flight' response to escape harm. I'm 60 years old. I'm not good at fighting and not very fast at fleeing. So what's my third option?" Jill created the WatchMe 911 app to provide the solution.
"I first started thinking about a personal alarm system before smart phones even existed. I saw that there were car alarms and house alarms, and wondered why there weren't personal alarms. At the time I imagined that the personal alarm would go through an answering service system, but since smart phones were created, it can all be tied together in an app format."
Jill demonstrated the WatchMe 911 app to me during our interview. It contains features such as a panic button that can be armed in advance. Two taps on the smart phone screen and a circle of friends and 9-1-1 are contacted immediately with your GPS location and an alert message. The panic button is a favorite for women who are concerned for their safety when walking late at night or in dimly lit parking lots or alleys.
The "Monitor Me" feature allows the user to schedule messages to friends in advance of a potentially dangerous situation. The message will be sent at a specific time unless disarmed by the user. This is helpful in situations where, for example, a user is out for a run without their phone and might become injured or threatened. They can set the alarm to send out a call for help to friends, with a pre-programmed description of the trail that they're on. This feature is also popular during blind dates when users would like their friends to check in with them at a certain time.
WatchMe 911 also contains a simple "call 9-1-1" button, a check-in button (that reminds me of a combination of  FourSquare and Twitter), and allows select groups of people to join a "neighborhood watch" type network to support friends who might need help. There is a campus version of WatchMe 911, called OnWatch that is modified for college students, allowing them to connect with campus police, for example.
Although the WatchMe 911 app only launched in September of this year, its sister program (OnWatch) has already won the Apps Against Abuse Technology Challenge, sponsored by the Office of the Vice President, the White House Office of Science and Technology, and the Department of Health and Human Services.
Jill told me that WatchMe 911 is available for free download on iTunes now, with in-app purchase fees ranging from $5.99/month to $99.99/year. Call 911 feature is always free. Users are offered a 30-day FREE trial of the entire app.
OnWatch will be available for free download on iTunes in Q1 2012. Users with a dot edu address will receive a free 90-day trial of the entire app. Android versions of both apps are currently being engineered and will follow shortly.
Although my one concern about these apps is the potential for false alarms (I can imagine how annoying it could be for forgetful joggers to send out unintentional, automated alerts to friends), I believe that version 2.0 of WatchMe 911 could provide revolutionary real-time aggregated data to law enforcement. Nation-wide and local crime hot-spots could be identified easily from users who opt-in to share their alerts, allowing police to allocate resources more effectively – deterring violent crimes before they even occur.
I hope this app gets the traction it deserves, because the potential for benefit is incredibly large. And for all the other women and grandmas out there who are looking for an alternative to "fight or flight" this may well be your ticket.
***
Missed this year's mHealth Summit? Presentations are available for viewing here.