I first applied for a license to practice medicine in the state of California on July 9, 2008. I was licensed on March 3, 2011 — a whopping 967 days after they first received my application. I haven't had a problem getting a license in any other state, and I am licensed in six of them. Just to give you a sense of how long it usually takes to process the paperwork for a medical license, Maryland completed mine in under three weeks. So what's going on in California?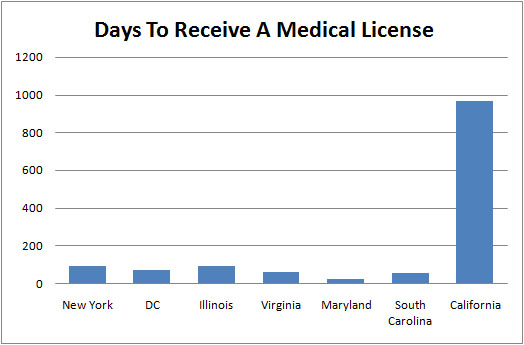 Dr. Val's Experience
I think the best way to tell this story is with a timeline, and let the facts speak for themselves. I know this represents just one physician's experience (namely mine), so results may vary:
July 9, 2008 – The Medical Board of California (MBC) received my licensure application and my checks for $493 (for fingerprint and processing fee) and $805 (initial licensing fee), which were cashed soon thereafter.
Sept 29, 2008 – I received a letter in the mail stating that there were four items missing from my application. Two of these four items were already included in the Federation Credentials Verification Service (FCVS) packet they had received from me. The other two items were requests for residency program directors to write letters to support the forms that they had already filled out on my behalf. I immediately requested these letters, and even though I should not have needed to send additional copies of items from the FCVS packet, I did so as well.
December 3, 2008 – I received a letter in the mail from the MBC, stating that there was an additional fee of $25 now required for physicians whose licensure applications were postmarked after December 31, 2008. This obviously didn't relate to me, but the letter reminded me to follow up with the board to make sure that they had received the four items from the Sept 29th letter. I sent the licensing program administrator an email and left a voice message for follow-up purposes. He gave no response.
January 1, 2009 to September 30, 2009 – I sent five different email requests for follow up information, without response from anyone at the MBC. I decided not to move to California, but to remain in Washington, DC.
October 5, 2009 – I sat next to an attorney on a flight to San Francisco whose law firm specializes in helping physicians get medical licenses in California. I told him that I was having a difficult time communicating with the MBC, and that they wouldn't even tell me what was missing in my application so that I could rectify it. The attorney told me that lack of communication with the MBC was extremely common, and in fact a large portion of his practice was devoted solely to suing the MBC to get them to process application paperwork. He asked me if I'd like to retain his services, and I said that it would cost too much and that I'd simply keep trying on my own.
October, 2009 to November, 2010 – Every few months I sent an inquiry email about my application status, without any response from the MBC.
November 29, 2010 – The first email response from the MBC arrived, stating that the only remaining item to complete my license application was a "delegation letter" from one of my residency training programs. I immediately asked for this letter from my program, and they explained that they had no idea what a "delegation letter" was. So I asked for clarification from the MBC.
November 30, 2010 – The licensing technician (LT) assigned to applicants with last names beginning with "J" clarified that he needed evidence that the physician who signed my intern year training form had the authority to do so. (The residency program director was to "delegate authority" to the signatory.) As it happened, the department chair had signed the form instead of the residency program director. In essence, the residency program director needed to vouch for her superior. The delegation letter was mailed within two business days.
December, 2010 – Repeated email requests for confirmation of receipt of the delegation letter, as well as assurance that nothing remained outstanding in my application, received no response.
January 26, 2011 – I received an email from the MBC stating that a new LT had been assigned to my case and that she'd be reviewing my application for completeness. She found three items missing: 1) the delegation letter 2) a letter from my medical school registrar, vouching for a line item listed on my transcript, and 3) a new application form with new photo (because so much time had elapsed that they weren't sure that the application was still current). I responded that the delegation letter had been sent (I confirmed this with the residency program), that there was no one at my medical school's registrar's office who knew how to provide any additional assurance of my curriculum beyond the previously notarized signature of the Registrar herself (which was also verified by FCVS), and that I'd be happy to fill out the application form and provide a new passport photo due to the excessive time lapse.
January 28, 2011 – The new LT emailed me to say that she had met with "senior staff" about my application and that there was no record of receipt of a delegation letter, and that I needed to get my former residency program director to again write them a letter that the chairman of the department has the authority to sign my application form. She also said that the senior staff had relented regarding the authorization letter from the registrar's office.
February 2, 2011 – I was cc'd on an email from my former residency program confirming that the delegation letter had been faxed on December 2, 2010, and a copy had been mailed to MBC on that date, as well as a second copy on February 2nd and an email attachment directly from the residency program director.
February 8, 2011 – The LT informed me via email that the new application that I provided (along with my photo) had the notary's signature in the incorrect location, and that I needed to provide a re-notarized copy of the application. I asked if another photo was needed.
February 9, 2011 – The LT informed me that a third photo was not needed, and that she could peel the last one off the new application and affix it to the third (and newly notarized) copy of the application form. I was worried that the older photo would be lost, so I got a third passport photo made anyway, and attached it to a new form that I got notarized by another person.
February 21, 2011 – I requested email confirmation of the newly notarized application form (a U.S. Postal Service Delivery Confirmation Receipt showed delivery on February 11). No response offered.
March 3, 2011 – I again requested email confirmation of the completion of my application.
March 3, 2011 (3:49pm) – I received this email response from the LT: "Congratulations! You are now a licensed physician with the State of California. You can access your license number off our web site. It was nice working with you."
And that's how I became a licensed physician in the state of California. Of course, the clinical job I was interested in in 2008 — for which I'd originally applied for a CA license — is now long gone, life has moved on, and I just bought a house on the beach in South Carolina.
So if you live in California and are having a hard time finding a doctor, perhaps it's because physicians like me are being effectively prevented from working in your state by its own medical board? I bet you hadn't thought of that.