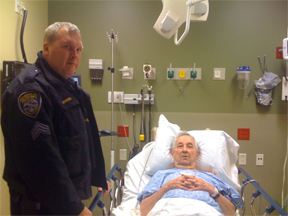 My father in law is 83 years old. He has high blood pressure, high cholesterol, and occasional "senior moments." He rarely complains about anything, and spends most of his time doing household chores, playing with grand kids, and watching TV. So it was with some degree of concern that I raised my head from my morning cereal when George announced at the breakfast table that he was having chest pain.
I looked at him with narrowed, clinical eyes and began asking the usual rule out MI type questions – did it feel like pressure? Where was the pain exactly? When did it start? Does anything make it better or worse? Does it radiate down your arm or up your jaw? Have you ever had this pain before? How severe is it on a scale of 1-10?
George's answers were neither reassuring nor specific for a heart attack. He just pooh-poohed my line of questioning, suggesting that his pain was all just part of growing old, and that maybe it was "because he was too fat" or "maybe the weather is changing." So I asked his wife if I could look at his medication list. I saw aspirin and nitroglycerine tablets prn along with an ACE inhibitor and a beta blocker. I didn't like the nitro. I watched him for a few minutes as he walked around the house, pausing to take some deep breaths to try to make the mild pain diminish.
"Ok, that's it… I'm calling your PCP to see if we can at least get you an EKG right away."
George responded that he had an appointment in a few days time so there was no need to see anyone until then. I responded that chest pain isn't the sort of thing you wait on, and that I'd feel better if we could get him checked out. Luckily, Mrs. Zlotkus agreed with me and within minutes I was speaking to George's on-call physician. After discussing what I had observed, his doctor suggested we call an ambulance and get him to the ER. We opted to take him there in our car to save a copay.
The hospital was clean, bright, and efficient. We got an EKG within 10 minutes of arrival and as I glanced at it as the tech tore it off its paper roll to show to the ER attending, I could tell it was normal. I breathed a sigh of relief, and the pace of the work up slowed noticeably.
The nurse assigned to George entered the room to do her assessment. "What brings you here today?" she asked.
"I'm old." Said George with a smile.
The corner of the nurse's mouth raised faintly. "But what about being old brought you here today?"
"I have some back pain. But I'm going to see Dr. M about it in a few days."
I could see the nurse also relax the pace with which she was connecting him to the various monitors. She was not concerned about any "real emergency."
"So were you lifting something heavy recently? Did you hurt it your back?"
"No, I don't lift anything. Just laundry."
"Uh, huh…"
"Well how bad is this pain right now on a scale of one to ten?"
"I don't have any pain. Can I go home now?"
I rolled my eyes, wondering if I'd over-reacted in bringing George to the ER.
"Well, we'll see what the doctor says," said the nurse looking at me as if George's work up was going to be a big waste of time.
Eventually a wiry 40-something doctor in blue scrubs popped his head into the room and asked George to explain why he was there.
"I've got stomach pain." Said George.
"I see. Well can you point to it?"
George pointed to his sternum and his back between his shoulder blades.
The doctor tried various maneuvers to elicit the pain (including deep abdominal palpation and twisting and moving George's arms and waist). Nothing really brought it on. He took George's blood pressure in both arms. There was a 20 point systolic difference between the two. I mentioned that George had smoked occasionally in his youth.
"We'll probably need to get you a CT scan to check on your big heart artery. We need to make sure you're not having an aortic dissection. Do you have any questions?"
"Can I go to my grand daughter's birthday party?"
The ER doctor paused, "Well when is that?" he asked.
"Now" said George.
Mrs. Zlotkus chuckled and reassured her husband that the CT scan was more important. I asked the tech if I could follow him back to the scanner and look at the images – "Why, are you a nurse?" He asked.
I had to wait out in the hallway just outside the radiology suite, but peeked in just as the white outline of his aorta flashed on the screen as the tech scrolled through the slices. It looked normal to me.
So we wheeled George back to his cozy ER room where his son Chuck (the Sargent in the photo) was waiting. The nurse arrived to announce that the second round of blood tests (cardiac enzymes) were normal.
So there I was the George and Chuck – and a bunch of normal tests – with only some elevated blood pressure to show for the whole day. I figured we'd make the birthday party after all… But just to be cautious, George's PCP called in and asked that he be admitted to the hospital for observation over night and a stress test in the morning. As it turns out, non-emergency stress tests weren't scheduled on Sundays so George was discharged home instead with a follow up in a couple of days.
I winced as I imagined the costs associated with this "million dollar work up," hospital admission, and upcoming stress test. I remember blogging some fairly harsh criticisms at the ER docs who recently got a head CT on my mother in law when she had shingles on her scalp and a headache. Was I now guilty of the same waste of resources?
George was right – he was getting old. The nurse was right – there was nothing emergent going on.
The ER doc was wrong – George didn't have an aortic dissection. And I was wrong – there was nothing actively wrong with his heart.
I feel badly that I contributed to a waste of healthcare resources, but I just couldn't ignore a complaint of chest pain at the breakfast table.
And yes, his stress test was totally normal… The pain went away on its own after a few days, and its cause will forever remain a mystery.
I guess I should be thankful for the times when we make much ado about nothing. The alternative (a heart attack or aortic dissection) is far worse, though the "living with diagnostic uncertainty" is annoying as heck.
I need to practice my shrug.
***
George and Mrs. Zlotkus gave me permission to blog about their story.