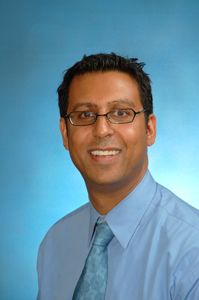 Since mainstream media is feeding parents a constant stream of health information that is often inaccurate and poorly vetted (just ask Gary Schwitzer), I thought it would be helpful to create a new series at Better Health: Mythbusters for Moms. Now, I know that moms aren't the only ones who will benefit from "straight talk" from healthcare professionals, but the alliteration was simply irresistible.
Our first guest of the series is Dr. Rahul Parikh. Rahul is a board-certified pediatrician who works at Kaiser Permanente's Walnut Creek Medical Center in California. Prior to becoming a pediatrician, Rahul completed a degree in molecular biology at UC Berkeley, and his medical degree at Tufts in Boston.
Online, Rahul is perhaps best known for his columns, featured at Salon.com. There he takes a critical look at media misinformation about health and science, and has spoken out against misleading content promoted by Oprah Winfrey and the Huffington Post.
You may listen to an audiocast of our conversation here (or read a short transcript below):
Audio clip: Adobe Flash Player (version 9 or above) is required to play this audio clip. Download the latest version here. You also need to have JavaScript enabled in your browser.
Dr. Val: Let's begin with your thoughts on pediatric fevers. I have a feeling that parents have quite a few misconceptions about them. What concerns are you seeing in your practice?
Dr. Parikh: "Fever phobia" actually started in 1876, with Dr. Claude Bernard (some consider him to be the father of modern human physiology) in France. Dr. Bernard learned that laboratory animals could be killed by raising their body temperatures above a few degrees of normal. He then postulated that human fevers are all potentially life-threatening, and his work greatly influenced the medical community's approach to fevers. Prior to Dr. Bernard's work, fevers were felt to be a normal part of the disease-fighting process, not a life-threatening symptom requiring aggressive management.
That fever phobia has persisted. About 30 years ago a famous pediatrician named Dr. Barton Schmidtt surveyed parents about their views of fever. He found that 94% believed that fevers would cause serious harm to their children, including permanent brain damage and death. Most also believed that there was no upper limit for fevers – that they could rise to over 110 degrees Fahrenheit or higher – and that the correct treatment was to use ice baths, alcohol compresses, or alternating acetaminophen (Tylenol) and ibuprofen (Motrin) to treat any fever.
As it turns out, many physicians believe the same myths about fever. In the vast majority of cases, fevers are just a normal part of the body's infection-fighting process, and they don't need to be treated. The reason why we give Tylenol and Motrin is not to cure the fever, but to keep children comfortable. If a child has a low grade temperature and is running around and feeling fine, there's no need to treat his fever. And there's rarely a reason to wake a comfortably sleeping child up to give them fever medicine.
Dr. Val: Tell me about teething… Is it the scapegoat for unexplained symptoms in kids?
Dr. Parikh: In 19th century England, 5% of kids supposedly died of teething. Of course, that has dropped to zero as we've gotten a better handle on the true causes of disease. However, some doctors – even today – chalk up many different symptoms to "teething syndrome." Everything from rashes on the face, to diarrhea, fussiness, and even fevers. There is mounting evidence in the scientific literature that there isn't actually such a thing as a teething syndrome, yet perhaps it's still debatable. One thing that's not debatable: teething does not cause fevers.
Dr. Val: What about food allergies – is there some confusion about what they are and how to reduce the risk of developing them?
Dr. Parikh: There are people from many different cultures who introduce foods at very different ages. Some introduce beef to babies under one year old, others introduce applesauce at 2 or 3 months, and some give fruit juice under 6 months. I used to think those practices were unhealthy, but when I started looking into it, the scientific evidence seems to show that introducing foods to babies and children at a young age makes it less likely that they'll develop food allergies later on.
There is some confusion over what constitutes a true food allergy. Some parents think that if their child throws up after eating peanut butter that they're allergic to it. In reality, peanut butter is so thick and sticky that it can cause vomiting, unrelated to any potential allergy. A true allergy is associated with itchy rashes or hives and swelling around the face and mouth, especially within a few minutes of eating the offending food.
Another misconception is that if a parent has a severe food allergy, that their child will have it as well. This is rarely the case, as food allergies are not inherited the way eye color is. The good news is that most children of parents with food allergies don't have them themselves. But parents should keep an eye out for serious reactions just in case.
Dr. Val: Alright, I've saved the best for last. Vaccines. What are the most common misconceptions that you see?
Dr. Parikh: Vaccines have become a very emotional and polarizing issue. Parents should know that vaccines have risks (like pain at the injection site, or low-grade fevers) but those risks do NOT include autism or developmental disorders. We have over ten years of science that proves that vaccines (or their ingredients or their timing of administration) do not cause autism, no matter what people on Oprah and Larry King say.
When parents refuse vaccines for their kids, they're not only putting their children at risk for life-threatening, preventable diseases, but the whole community as well. All it takes is one plane ride with an infected passenger to spread disease to a new community. We've seen this in San Diego and Minnesota where vaccine-preventable diseases have broken out recently.
Vaccines are the single most effective, life-saving public health measure of the past 100 years. They've been so successful that it's easy to forget what the illness that they prevent are actually like. A whole generation of Americans have grown up never having seen polio, measles, diphtheria, or tetanus for example. But travel to a developing country that doesn't have vaccines available to all their citizens and you'll see what we're missing.
Dr. Val: I know you've spent time practicing in India. What's the worst case of a vaccine-preventable disease that you saw there?
Dr. Parikh: When I was doing rounds at a hospital in Bombay, I saw a 7 year old boy with tetanus. All of his muscles were in spasm, and he was truly in agony. The image I can't get out of my mind is the strange expression on his face caused by the severe muscle contractions. In medicine, this characteristic expression is known as risus sardonicus but if you've ever seen the movie Batman and you know what the Joker's smile looks like – that's pretty close. It was really haunting.
Vaccine-preventable diseases are real, they're still out there, and they can come back if we let our guard down.
***
References:
The vaccine schedule for children (provided by the Mayo Clinc).