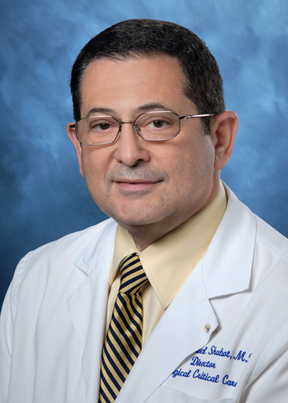 Dr. Michael Shabot
I recently interviewed Dr. Michael Shabot, Memorial Hermann Hospital System's Chief Medical Officer, about how his hospital is taking steps to improve patient safety and healthcare quality. His hospital was awarded the 2008 National Health System Patient Safety Leadership Award at a ceremony at the National Press Club.
You may listen to your 20-minute interview here, or read my summary of it below.
[Audio:http://blog.getbetterhealth.com/wp-content/uploads/2008/12/shabot.mp3]
Dr. Val: Tell me about what Memorial Hermann has been doing in the area of hospital quality and safety.
Dr. Shabot: We operate Memorial Hermann Healthcare System on the premise that all patients, visitors, and staff will have an absolutely safe environment. In fact, six of our hospitals have gone a year without a single case of hospital-acquired blood stream infections, or ventilator-associated pneumonia.
Larry Kellner, the CEO of Continental Airlines, can travel on any one of his airplanes without checking on the credentials of the pilots. But would you advise a family member to go to a hospital without checking its credentials or being under the care of a physician whom you know and trust? I wouldn't.
Every single one of our hospital employees has gone through our "cultural transformation" training. They are taught new ways of doing their current jobs – based on safety training with a proven track record in the aircraft and nuclear energy industries. We also feature employees who have "good catches." Last month's "good catch" employee found a medication that was packaged incorrectly from the vendor. It was in the correct bin of our computerized dispensing system, the outer package was correct, but the bottle inside contained a different dose. And this medicine was going to be given to a tiny baby in our neonatal ICU. That incorrect dose could have caused terrible harm, but thanks to the alert nurse – we caught the error.

Dr. Val: What program did you implement that helped identify this kind of error?
Dr. Shabot: We have a program called "STAR" and it stands for Stop, Think, Act and Review. All employees are coached to wait for 1 second before each action – you'll never see nurses and doctors on TV doing this. You see them furiously drawing up medications and injecting them without hesitation. But our staff learn to pause between actions. In fact, industrial safety experts have discovered that waiting one second between actions can reduce the associated error rate by 90%. This doesn't add any significant paperwork or work time to anyone's day – and it can result in catching errors (like the medication that was packaged incorrectly by the manufacturer) that seem beyond our control.
Dr. Val: You've said that your goal is a "zero error rate." Is that realistic?
Dr. Shabot: Yes, and I'll tell you why. Although humans aren't perfect and will always make the occasional error – the secret is in catching those errors. For example, we can't prevent every packaging error that occurs in factories, but we have the safety checks in place to catch those mistakes in our hospital.
Every patient at Memorial Hermann receives a bar code on their admission wrist bracelet. We've invested millions of dollars in making sure that the right dose of medication is given to the right patient at the right time, with barcode back up checks. Every surgery begins with a check list to make sure that we are performing the right procedure at the right site on the right patient and that all antibiotic coverage and blood clot prevention drugs are on board. Surgical checklists are proven to save lives.
Dr. Val: How expensive are all these additional quality measures?
Dr. Shabot: It's very expensive, but it's the right thing to do. There is no improvement in efficiency or any tangible ROI associated with these programs, which is why many hospitals don't do it. For example, we've invested 18 million dollars in a program called "Breakthroughs In Patient Safety" or BIPS. All of our staff (from the business team to the sanitation team, to the pharmacists, doctors, and nurses) must complete this training. We do not accept the attitude that patient safety "isn't my job" – because any one of us can prevent a potential hazard if we believe it's our job to do so. A hospital admissions clerk can prevent a fall if she sees an injured patient trying to move about without assistance.
The bulk of the cost for the BIPS course was in hiring additional staff to fill in for those who were attending the course during normal work hours.
Dr. Val: If people are coming into the hospital with MRSA infections, how do you make sure that you have a zero hospital-acquired infection rate?
Dr. Shabot: I'm glad you asked. As far as I know, we're the only hospital in Houston who tests every single patient admitted to our ICU for MRSA. We do this so we can isolate those who have it and reduce the risk of transmission to those who don't. The hospital does not get reimbursed for this testing – and an MRSA PCR of a nasal swab costs $24/test. The hospital system admits about 20,000 patients a year to the ICU.
Dr. Val: But that's just the ICU – what about other inpatient units?

Dr. Shabot: The risk for hospital-acquired infections is greatest in the ICU setting because patients are more likely to have central venous catheters and multiple tubes coming in and out of their bodies there. High risk patients (with weakened immune systems or from nursing homes) are also tested for MRSA at the discretion of the physician. And any patient who tests positive for MRSA has that permanently documented in their electronic health record in case they're readmitted.
So essentially we've invested about $800,000 in this MRSA initiative with no way of being reimbursed – just to protect patients. In these tough economic times, that's extra difficult. But we're doing it.
Dr. Val: Tell me about your hospital quality transparency initiative. You've made your hospital quality data available to patients on your website since 2003, yet you've found that most patients aren't looking at it. What's that about?
Dr. Shabot: We've audited the IP addresses of those who've accessed the quality data on our site and have found that the majority of our hits are from inside the Memorial Hermann system. And that's a shame – we've publicized this data as much as we can, but the public is just not looking at it. Our growth and success as a hospital system does not seem to be influenced by the publication of our quality data.

Dr. Val: What does the American public need to know about hospital quality and patient safety?
Dr. Shabot: I think that if the public knew what we know about hospitals, they'd pay a lot closer attention to the evidence that a hospital is safe and effective before they allowed their physician to place them there. You may have a very fine physician, but once she admits you to a hospital, then someone else is taking care of all your medications, all your I.V.s and everything that's in them, and your procedures. Hospitals are a high-risk environment, just like airplanes used to be.
I spent a day and a half on an aircraft carrier learning their safety system – and it was incredibly revealing. Did you know that in the 1950s our U.S. navy lost 654 planes a year before they instituted a safety program to address this? Today the navy's record is one incident in every 175,000 flight operations. That's the kind of improvement that hospitals need to make in providing safe and effective care to patients.
If a hospital won't reveal their quality and safety statistics, then I think patients should ask their doctor to admit them somewhere else.