This is a guest post by Dr. Julia Hallisy.
Serious infections are becoming more prevalent and more virulent both in our hospitals and in our communities. The numbers are staggering: 1.7 million people will suffer from a hospital-acquired infections each year and almost 100,000 will die as a result.
When our late daughter, Kate, was diagnosed with an aggressive eye cancer in 1989 at five months of age, our life became consumed by doctor visits, MRI scans, radiation treatments, chemotherapy — and fear. My husband and I assumed that our fight was against the ravages of cancer, but almost eight years later we faced another life-threatening challenge we never counted on — a hospital-acquired infection. In 1997, Kate was infected with methicillin-resistant staphylococcus aureus (MRSA) in the operating room during a "routine" 30-minute biopsy procedure to confirm the reoccurrence of her cancer.
Kate's hospital-acquired infection led to seven weeks in the pediatric intensive care unit on life support, the amputation of her right leg, kidney damage, and the loss of 70 percent of her lung capacity. While most infections are not this serious, the ones that are often lead to permanent loss of function and lifelong disabilities. In the years since Kate's infection, resistant strains of the bacteria have emerged and now pose even more of a threat since they can be impossible to treat with our existing arsenal of antibiotics.
Patients afflicted with MRSA will often have to contend with the threat of recurrent infections for the rest of their lives. These patients live in constant fear of re-infection and often struggle with feelings of vulnerability and helplessness. Family members, friends, and co-workers may not fully understand the facts and have nowhere to turn for education about risks and prevention. Loved ones may worry unnecessarily for their own safety, which can cause them to distance themselves from someone who desperately needs their presence and support.
We have the knowledge and the ability to prevent a great number of these frightening infections, but the busy and fragmented system in which healthcare is delivered doesn't encourage adequate infection control measures, and patients continue to be at risk. A significant part of the problem is that the public doesn't receive timely and accurate information about the detection and prevention of MRSA and other dangerous organisms, and they aren't engaged as "safety partners" in the quest to eliminate infections.
Once I knew that Kate would survive her infection, I embarked on a different journey as I began to research the causes and the solutions to hospital-acquired infections and preventable medical errors. The information I obtained was both alarming and disheartening. The system that we all rely upon and the one that I trusted to care for my precious daughter was failing tens of thousands of patients every year. Our situation was not unique — in fact, it was all too common.
In 1999 the Institute of Medicine (IOM) released a groundbreaking report on the dangers in our healthcare system that validated what I had come to learn during my quest for answers. In the decade since the IOM publication, little progress has been made in implementing the safety recommendations detailed in the report. The reality is that patients and their loved ones must step up to the plate and have a positive influence on the safety and quality of healthcare they receive by seeking information, doing their own research, and being actively engaged as active partners with their healthcare providers.
Consumers can help prevent many infections and potential errors, and studies show that patients who are involved in their care often experience better outcomes. Patients who are involved in their medical care understand the rationale behind their plan for care, have realistic expectations and set attainable goals, and are generally more compliant with their treatment strategies. All the major patient safety organizations agree that patients need to assume a greater role in their healthcare and to enlist friends or family members as advocates.
It's true that the days of squirting Bactine on a cut and not giving it another thought are over. But even though we must be more aware and vigilant, we must not allow fear to stop us from taking steps to protect ourselves. I'm often asked if consumers can really have an impact on preventing hospital-acquired infections and medical errors, and my answer is always an emphatic "yes" because I consider patients and their advocates to be untapped safety resources.
This fervent belief led me to spend eight years researching and writing a book entitled, "The Empowered Patient: Hundreds of Life-Saving Facts, Action Steps and Strategies You Need to Know." I believe that the hard-won information I learned during our ten years immersed in the system fighting for Kate's life was meant to be shared with others. While the book details hundreds of basic "action steps" for patients to utilize, the following is a good start for those interested in staying safe from infection: 
Don't insist on antibiotics for every illness. Many respiratory illnesses, fevers and ear aches are viral infections and antibiotics have no effect on viruses.
Finish your entire dose of antibiotics to ensure that the bacteria have been completely eliminated from your system. If you stop taking antibiotics as soon as you feel better, you may be helping the bacteria become resistant, because you may only wound the bacteria and not kill it.
Wash your hands and insist that your healthcare providers do the same. Simply state before anyone touches you, "I know that infections are a problem in hospitals and I routinely ask all my providers to wash their hands and wear gloves." No one will object to this logic or feel offended.
Healthcare workers should wash their hands and wear gloves for all vascular (or blood-related) procedures, such as starting an IV line.
Ask if you need a pre-operative antibiotic one hour before your surgery and remind the staff to administer it.
Ask your surgeon if you should wash with an antibacterial body wash containing chlorhexidine before surgery. And don't shave your surgical site, which can cause small cuts in your skin and allow bacteria to enter your system.
Realize that California has "adverse event" and hospital infection reporting law. If you experience an error or an infection, ask that your hospital report it to the Department of Public Health. If you encounter resistance, you can personally report the situation to your local health department.
Can you prevent every error, mishap, or infection? Absolutely not. Caring for the human body will always be inherently risky. That fact is undeniable. But don't let the fact that you can't eliminate every error or risk make you give up or not even try at all. Patients and their advocates are not only a part of the solution, they're a vital part.
Those of us who've lost so much could've turned away from the system that hurt our loved ones and never looked back. Instead, I work with hundreds of other advocates from all over the country who devote endless time and energy to working with the healthcare system to make meaningful improvements. We do this because we still believe — even after losing those we love and still mourn every day — that this country has the desire and the ability to make our healthcare system a beacon of safety and excellence.
Because at the end of the day we still envision a system that puts patients and advocates at the center of the healthcare team. A system where patients work with their doctors, not at odds with them. A system that tracks, monitors, and reports hospital-acquired infections and medical errors so we can compile the data we need to save lives. A system that is safe and compassionate, but never complacent. A system that is constantly seeking ways to improve, setting higher goals and welcoming of a more educated and involved public.
**********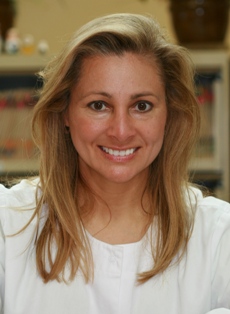 Dr. Julia Hallisy earned her BS in Biological Science from the University of San Francisco and a second Bachelor's degree from the University of California in Dental Sciences. In 1988, she received her Doctorate in Dental Surgery from the University of California at San Francisco School of Dentistry and has been in continuous private practice in San Francisco since.
Her second child, Katherine (Kate), was diagnosed at five months of age with bilateral retinoblastoma. Dealing with her daughter's life-threatening diagnosis, the many recurrences of cancer, and the subsequent treatments for the malignant and aggressive tumors marked the beginning an almost 20-year involvement in our healthcare system. The unique combination of her scientific training, her work as a healthcare provider, and guiding a child through a chronic illness has afforded her invaluable insight as an advocate for patients.
Dr. Hallisy began to research the topic of patient safety in 1998 and has worked with the California Nurses Association on the Proposition 216 campaign for HMO reform. She has spoken at rallies with Ralph Nader and testified at San Francisco City Hall to promote the passage of legislation for a Patients' Bill of Rights. In 2002, Dr. Hallisy spoke before the California State Senate on Futile Care policies. She has worked with AARP on a patient advocate journal and has lobbied for healthcare reform in Washington, DC with Consumers Union. In 2009, Dr. Hallisy formed The Empowered Patient Coalition dedicated to providing educational, patient training, and advocacy resources for the public.
Dr. Hallisy lives in San Francisco with her husband, John, and their two sons, Daniel and Kevin. The Hallisy's ten-year old daughter, Kate, lost her lifelong battle with cancer in February 2000.
Disclosures: Dr. Hallisy has received support from Consumers Union for non-profit patient advocacy projects.