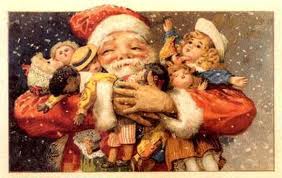 (Note:  This post contains spoilers.  If you are like my girl Brittany and you believe happily in the story of Santa, skip down to where it says "Diabetes is like Santa Claus.")
My husband and I share a philosophy on Santa Claus.  
Santa gets too much credit.  Why should Santa get all the glory for the gifts that show up underneath the Christmas tree on Christmas morning?  Mom and Dad work their tails off to provide a fun and comfortable life for our child, and to have the fun thunder (funder?) stolen by Santa Claus is unfair.  "Thank you, Santa, for the Barbie and the Rockers van!"  I shouted as a kid, not realizing that Mom and Dad put in some extra hours (and spent half the night assembling the stupid thing) to get that Rocker Van under our Christmas tree. 
So BSparl will be fed the Santa story, but she'll also understand that her Christmas gifts come mostly from her parents, and not from a fictional cookie thief who shimmies down the chimney.  Santa doesn't work as hard as we do, so he shouldn't get all the credit.
Diabetes is like Santa Claus.  (Welcome back, Brittany!)  Only in this case, it SHOULD be the one given most of the credit for certain things.  And I shouldn't give myself so much of the blame and guilt.  I have a tendency to look at a blood sugar reading and instantly blame myself for it.
"Oh, 236 mg/dl.  Great.  What did I do?"  And then I start musing about what I may have eaten or if I under-bolused.  Same guilt for a low.  Same reaction for any number that may be deemed "bad."
Only it's not my fault.  Even if I did overeat or over-bolus.  It's the fault of diabetes.  I can't assume all the blame for the effects of this disease because there is plenty that is out of my control.  I can count carbs and test often and make use of all the technology and medical advancements available to me, but when things go awry, I can't sit around and blame myself.
Last week, I was talking to some parents about "good" and "bad" diabetes numbers.  And I hate nothing more than assigning such adjectives to a moving target like a blood sugar number.  236 mg/dl isn't "bad."  It's out of range.  100 mg/dl isn't "good," but just in range.
It took me a very, very long time to not see my meter results as something I should feel badly about.  Growing up with diabetes, everything was tagged with either "good" or "bad."  But I can't carry that kind of guilt.  By blaming diabetes for these fluctuations, I'm able to remove myself from the guilt cycle, and move on faster from an out of range number.   Diabetes is to blame for my body's inability to maintain a consistent blood sugar.  This kind of "Santabetes" viewpoint is not an excuse for me to slack off, but the detachment makes it easier to bounce back from a tougher diabetes day.  I can't blame myself for everything — that's not productive or mentally healthy.  My job is to do my absolute best to keep things in range with the help of the tools and education I have at my disposal.
And, like Santa Claus, diabetes isn't going to get all the credit for the good stuff, too.  When my A1C was at the Nice Healthy Baby Range, I didn't give the nod to diabetes for being easy on me.  It was the result of my hard work against a pain in the ass disease.  Go ahead and take all the credit for the tough stuff, Diabetes.  I'm not owning that part of it.  I'm just going to keep looking ahead and taking one day of diabetes at a time…
…and mentally prepare myself for the Christmases to come, when I'll be up all night assembling whatever goofy gift is on my daughter's list.
*This blog post was originally published at Six Until Me.*