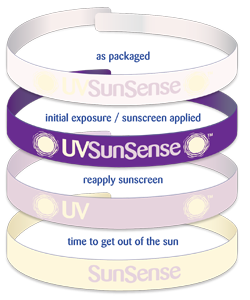 We're past spring break and headed toward the end of the school year and summer vacations. I noticed this product in the April issue of Plastic Surgery Practice.
UVSunSense is a wristband that monitors your exposure to sun. If you and your children have trouble remembering to reapply sunscreen or to just get out of the sun, then this might be just the ticket. 
Even young children can be taught to recognize the color changes the band goes through with exposure to the sun's UV rays. You should use only one band a day. 
After placing the band around the wrist, apply your sunscreen over your exposed skin AND the band. The new band will turn a bright purple with exposure to the sun, indicating it has been activated.
When the band fades to light pink, it's recommended to reapply sunscreen on your body and on the band. When the band turns pale yellow, it's recommended to cover up or get out of the sun.
The bands are made of recycled plastic, so recycle them after use.
Photo credit: UV SunSense
*This blog post was originally published at Suture for a Living*