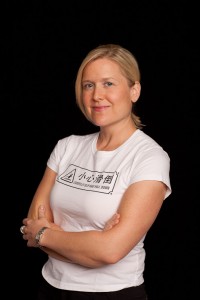 A strange thing happened to me at a CVS pharmacy two days ago. I was attempting to purchase a protein drink when the girl at the counter asked me to show her my I.D. card. I assumed she meant my CVS savings card and was sincerely confused when she rejected it, saying, "No, your picture I.D."
I dug through my purse to find my driver's license while the girl explained,
"You have to be 18 years old to buy this product. I need to type in your date of birth into the computer."
I wondered if the girl was partially visually impaired – at age 39 I didn't think anyone would confuse me for a teen (though of course, I would enjoy it if they did), but beyond the amusement of being carded for the first time in over a decade, I was taken aback by the age restriction placed on protein. "I must be really out of the loop," I thought to myself. "How on earth are teens abusing whey protein? And how did this become so common that CVS instituted a policy against it?"
As it turns out, it's not uncommon for teenagers (especially boys) to want to gain muscle mass. A quick Google search revealed various teen message board conversations about how to "get a chest like Usher" (or other favorite male celeb). Short of abusing anabolic steroids, teens are turning to over-the-counter performance enhancing supplements like creatine, ephedra, and steroid precursors, to improve their appearance and sports performance. Although my protein product did not include any of the above, I suppose that taken in excess it could cause the typical side effects of an excessively high protein diet: hypercalcemia, bone loss, and kidney stones.
The Mayo Clinic has an excellent review article about the most commonly abused performance-enhancing drugs, including steroids, erythropoietin, androgens, growth hormone, diuretics, creatine, and stimulants. Surveys suggest that performance-enhancing drug use among teens may be more common than we think, with between 1.6-5.4% of 8th to 12th graders using anabolic steroids alone.
Mayo also has tips for parents who suspect that their child may be abusing certain steroids, supplements or hormones. They write:
*Behavioral, emotional or psychological changes — particularly increased aggressiveness ("roid rage")
*Changes in body build, including muscle growth, rapid weight gain and development of the upper body
*Increased acne and facial bloating
*Needle marks in the buttocks or thighs
*Enlarged breasts in boys or smaller breasts in girls
As for my CVS experience, I suspect that the check-out girl mis-identified my protein drink as a creatine supplement (just as she mis-identified me as a youngster), though it's possible that CVS does have a policy against allowing teens to purchase protein drinks.  If that's the case, do you think they've gone too far in restricting product purchasing? If a teen can purchase acetaminophen, then what's the harm in them purchasing protein drinks?
Insights and opinions welcome!