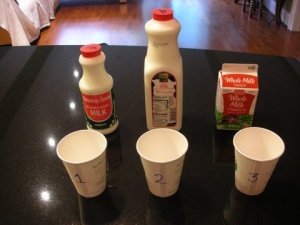 After my recent interview with Dr. David McCarron, I began to think of ways to increase my dairy intake. It occurred to me that I hadn't had a glass of milk since I was a kid – sure I'd put milk on my breakfast cereal or add it to recipes, but I just never thought of it as a beverage for some reason. I bet many of you feel similarly.
So I went to the store to get some whole milk, and I was almost overwhelmed by the options. There were many different brands (from different dairies) as well as organic options. I wondered if there was a taste difference between them. Which might be the most delicious?
I purchased three different types of whole milk: one from a local dairy, one that was organic, and a generic store brand. I brought them home and asked my husband to participate in a blind taste test. I put samples of each milk in a white, paper cup and asked him which one tasted best.
After several rounds of sipping, my husband confessed that he couldn't tell a difference between them.
Then an unexpected thing happened. My cat wanted in on the action and jumped up on the table to participate. She had a very clear preference – she chose cup #3, the generic, non-organic store brand. Way to go, kitty – no fancy milk for you!
What's the lesson of this totally subjective, unscientific study of n=3? Milk is good for you, it's the best nutritional value for the cost (25 cents/cup – compare that to soda), and there's no real taste difference between brands. Milk is a legitimate beverage – I'm going to have some more regularly… if I can wrestle it away from my cat.