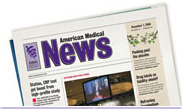 Connoisseurs of Twitter feeds know when an account is being managed by interesting minds. So when I took a moment to express my appreciation to American Medical News for their contributions to Twitter, it was not surprising that a group of doctors immediately joined the chorus. We all knew that @amednews was a reliable source of entertaining and important information from multiple sources, but we didn't know the person behind the account… until today.
Pam Wood is the Chief Copy Editor for American Medical News, and has cultivated a loyal following of healthcare professionals and patients on Twitter. I asked her to join me on a phone call to explain the secrets to her success. I'm sure you'll enjoy getting to know the person behind the tweets @amednews.
Audio clip: Adobe Flash Player (version 9 or above) is required to play this audio clip. Download the latest version here. You also need to have JavaScript enabled in your browser.
Dr. Val: Tell me a little bit about yourself – where you're from, your educational background, and what you've been doing at the AMA.

Pam: I'm a life-long resident of Illinois, and have been in Chicago most of my life. I was a journalism major at Northern Illinois University and worked in the newspaper business until I joined the AMA 26 years ago. I'm now the Chief Copy Editor for American Medical News.
Dr. Val: How did you become the official twitterer for amednews?
Pam: I joined Twitter kicking and screaming all the way. American Medical News, like all newspapers across the country, was hit hard by the convergence of the three p's – paper, printing, and postage. We were forced to cut back on our print edition and put more time and energy into our online edition. Our art director felt that Twitter would be a good way for us to increase our online traffic – and asked me to take over the @amednews Twitter account. At the time, all I knew about Twitter was that it was a punchline on the David Letterman show.
Dr. Val: How did you learn how to tweet so well?
Pam: Well, I wasn't a total novice to social media – I moderated online list serves for various groups and had been an avid reader of physician blogs. Twitter's like anything else, you lurk for a little while and then jump in. The primary goal of American Medical News is to drive traffic to our website, so I have a built-in source of content to tweet. That makes my job easier.
Dr. Val: Yes, but I've noticed that you retweet a lot of other peoples' content that doesn't link to @amednews
Pam: Well that's part of what I view as community-building. We don't just want to drive traffic to our website but also create awareness of American Medical News as an entity and also pass on good information that will interest physicians.
Dr. Val: What are some of your secrets to great tweeting?
Pam: The first thing you have to do is read what others are writing. Some people use Twitter simply to broadcast themselves, but I think Twitter works best if you also read what others are writing and engage with them in some manner – whether it's retweeting them or having side conversations via direct messages. Otherwise you seem like a robot.
Dr. Val: Do you worry about what you retweet – that there may be brand implications or assumed endorsements of things you retweet?
Pam: I don't worry as much about that as some others in the building do – but I'm pretty careful about what I retweet. For example, I check every link and refuse to send people to a direct competitor site. If the topic is politically charged, I either don't write about it or find an interesting perspective from someone who is already well-established in the physician community and then retweet what they write.
Dr. Val: I notice you're on Twitter quite a lot throughout the day. How do you manage this with your regular work flow?
Pam: We noticed that the peak Twitter traffic for @amednews is from 6am-8am Central Time each day. So I spend an hour tweeting before I leave for work, and then I check Twitter when I arrive, during lunch, and just before I leave. If I have a few free minutes during the rest of the day I like to check in and see what's going on. Lately I've been tweeting on weekends too.
Dr. Val: Do you have any advice for other professional societies who tweet?
Pam: The first thing that an organization needs to figure out is why they're tweeting. What are you going to get out of it? What's your point? If your only purpose is to say, "Look at us, look at how great we are." There are probably other venues that are better for that. If you regularly have new things to say and new concepts to bring to the table, that's more valuable. You can't just throw stuff out there, you have to read what other people are writing and you absolutely must respond to people.
Dr. Val: Are there any Twitterers that stand out in your mind? What are they doing right?
Pam: Well, I'm probably going to get in trouble here because I can't list all of the great ones. But for example, @ahier is outstanding in the tech community. He does a lot of retweeting in peripheral areas in addition to health IT. @DrDavid Ballard is the same way, and in the organized medicine world, I'd say @texmed (Texas Medical Association) is a leader.
Dr. Val: What else are you planning to do in the social media space?
Pam: American Medical News also has a Facebook fan page and a Linked In account. We're "amednews" on both. They're doing well, managed by other people in our organization, but growing much more slowly than Twitter. They're a different kind of community platform.
Dr. Val: Has it occurred to you that they're growing slowly because you're not leading them?
Pam: I think it's the media as well as the message.
Dr. Val: What do you think about the future of social media in healthcare?
Pam: I definitely think that doctors will become more and more involved in social media. I think physician-patient emailing will eventually become routine, journal clubs will happen online – through aggregators and list serves. For anyone who's very busy and has a limited amount of time to read, social media is a great way to see at a glance what's rising to the top of the chatter.
Dr. Val: Do you have any advice for physicians who are just getting involved in social media?
Pam: Physicians need to decide if they're tweeting as their practice or as an individual. Some people have success mixing both but you have to really be careful.